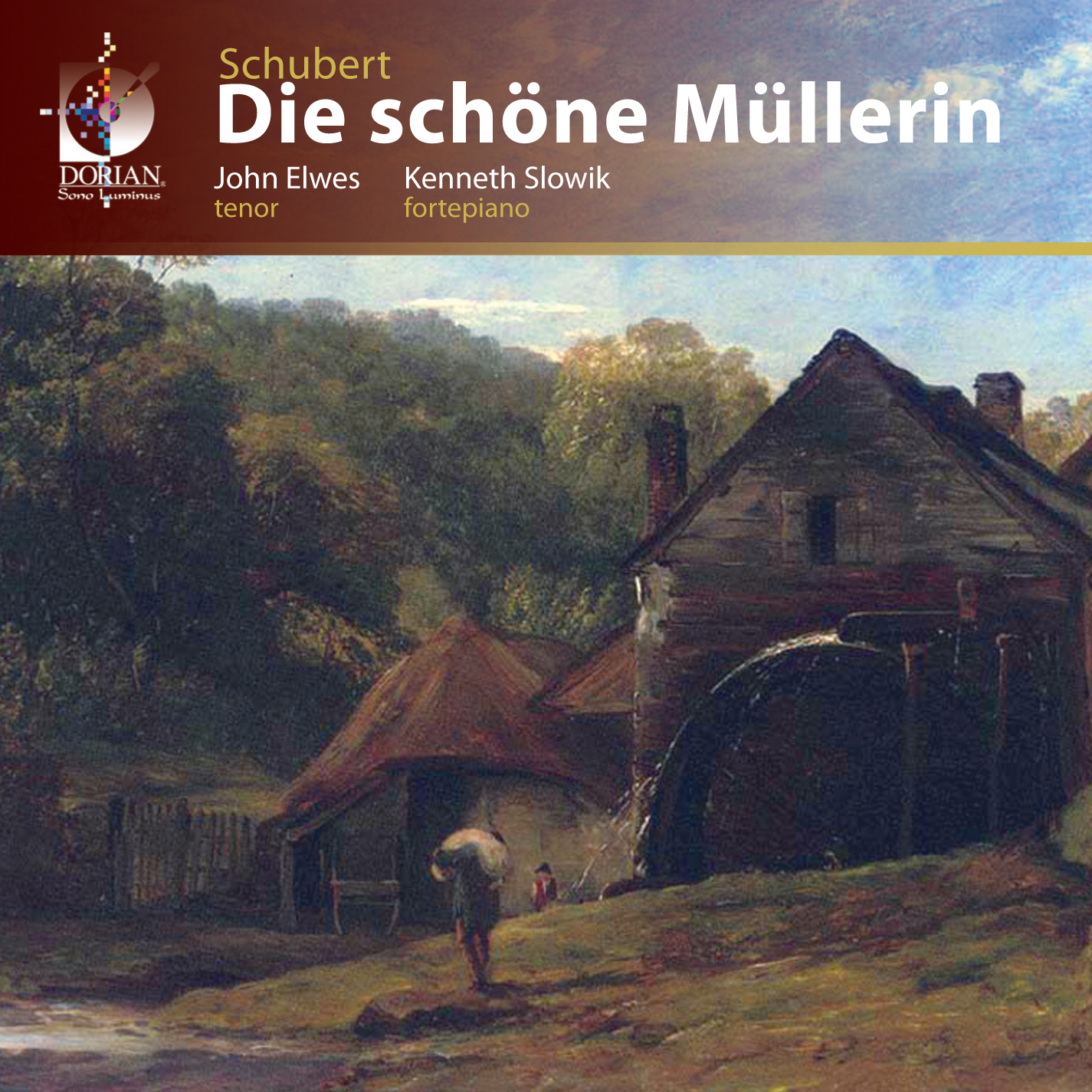 Die schöne Müllerin
Artists: John Elwes (tenor), Kenneth Slowik (fortepiano)
Composer: Franz Schubert
Format: 1 CD
DSL-90702
Kenneth Slowik and John Elwes deliver an exciting rendition of Franz Schubert's first song cycle using the beautiful Graf fortepiano from the Smithsonian's collection. This instrument is the type for which the work was originally intended.
This story of blighted youth is especially rich; it tells what happens when idealistic immature notions of love taken from fiction are blasted by the grittier realities of life.. Die schöne Müllerin is a sequence of individual songs, which are linked in various ways, by a narrative, by a unifying poetic theme, by a single poet, by musical means, or some combination of these elements.
Filled with nuances, such as the athleticism of the first vocal phrase to convey the youth's energy and freshness of purpose, Schubert breaks open startling rapture with any and all classical notions of song form.
This song cycle is a masterpiece of Shakespearean depth and complexity...
Tenor John Elwes began his musical career at Westminster Cathedral in London where he was Head Chorister. As a boy soloist he had considerable success: from BBC broadcasts and recordings to concerts with conductors such as Benjamin Britten, who dedicated his Corpus Chrsti Carol to him. Elwes is particularly well known for his sensitive and musical performances. His repertoire is extensive ranging from Monteverdi, Rameau, Bach and Handel to Mozart, Schubert, Schumann, Faure and Britten. His solo recitals encompass Elizabethan song with renaissance lute; music of the 17th century with baroque harp; Lieder and chansons with piano and contemporary music with guitar. He has a busy concert and operatic life, and has participated in more than one hundred recordings with the main recording companies.
Artistic director of the Smithsonian Chamber Music Society, Kenneth Slowik first established his international reputation as a cellist and viola da gamba player with the Smithsonian Chamber Players, the Castle Trio, the Smithson and Axelrod String Quartet, and Anner Bylsma's L'Archibudelli. Formerly conductor of the Santa Fe Pro Musica Chamber Orchestra, he now devotes increasing amounts of time to conducting modern- and period-instrument performances of orchestral, oratorio and operatic repertoire on both sides of the Atlantic, his performances in this capacity have delighted audiences and critics alike. Slowik's discography comprises over seventy recordings on a number of major labels. Of these, many have won prestigious international awards featuring him as a conductor, cellist, gambist, and keyboard player for music ranging from the Baroque (Marias, Couperin, Bach) through the Classical, (Haydn, Boccherini, Beethoven, Schubert) and Romantic (Mendelssohn, Spohr, Dvorak) to the early twentieth century (Mahler, Barber, Richard Strauss). Slowik serves on the faculty of the University of Maryland and is Artistic Director of the Baroque Performance Institute at the Oberlin College Conservatory.
Recorded at the Hall of Musical Instruments, National Museum of American History, Behring Center, Smithsonian Institution, the cycle and story follow the growth of a young man from adolescence to manhood, in its full extent of its mythic dimensions.
Track List
1. Das Wandern/Roaming
2. Wohin?/Whither?
3. Halt/Halt
4. Dansagung an Den Back/Thanks to the Brook
5. Am Feirabend/In the Evening
6. Der Neugierige/Eager Questioner
7. Ungeduld/Impatience
8. Morgengruss/Morning Greetings
9. Des Mullers Blumen/The Miller's Flowers
10. Tranenregen/Rain of Tears
11. Mein/Mine
12. Pause/Interlude
13. Mit dem Grunen Lautenbande/With a Green Lute Ribbon
14. Der Jager/The Hunter
15. Eifersucht und Stolz/Jealousy and Pride
16. Die Liebe Farbe/The Good Color
17. Die Bose Farbe/The Evil Color
18. Trock'ne Blumen/Dry Flowers
19. Der Muller und der/The Miller and the Brook
20. Des Baches Wiegenlied/ The Brook's Lullaby
Total time: 60:19
Release date: 2007
UPC: 05347907022