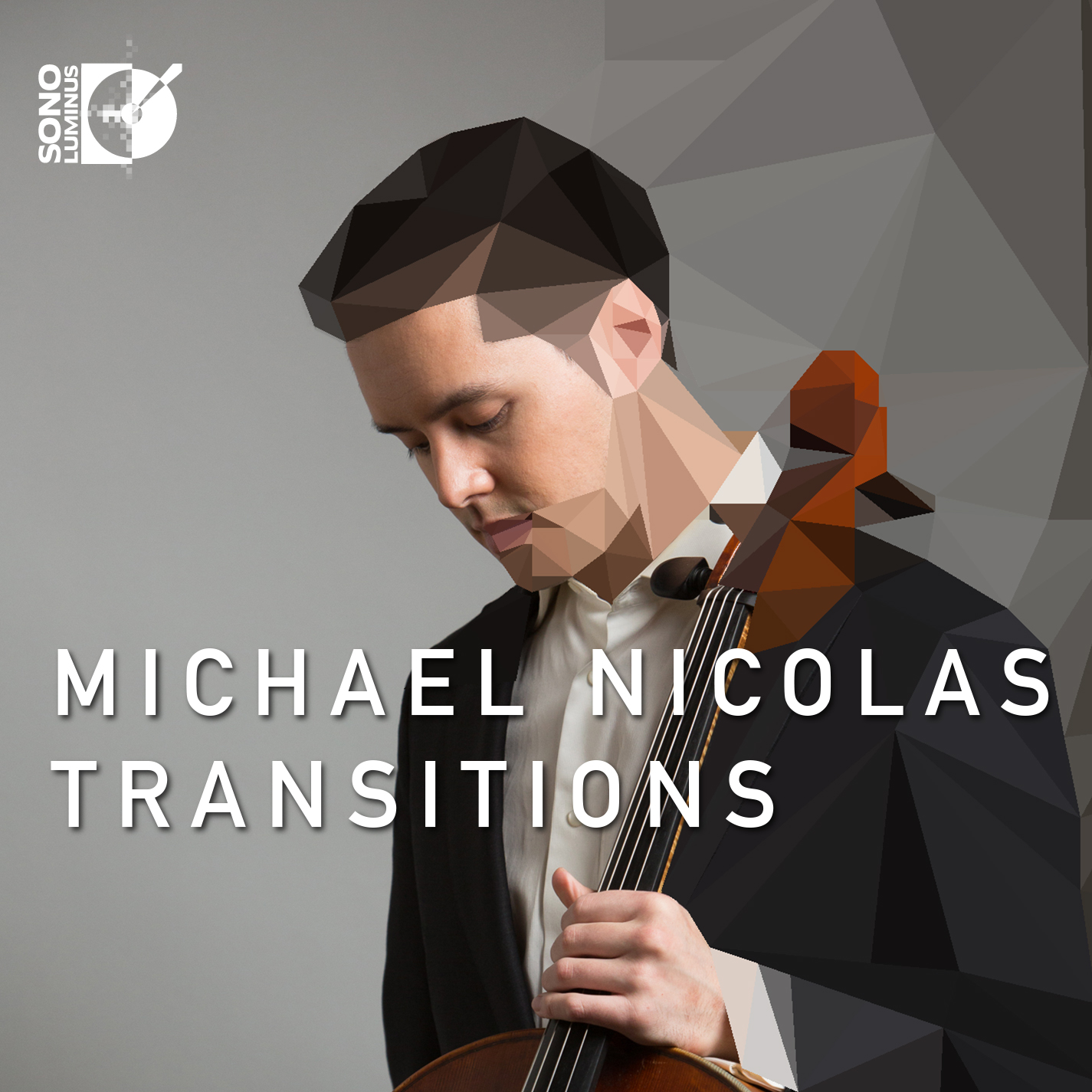 Transitions
Artist: Michael Nicolas
Composers: Mario Davidovsky, David Fulmer, Annie Gosfield, Jaime E. Oliver La Rosa, Steve Reich, Anna Thorvaldsdottir
Format: 1 CD
DSL-92202
A long-admired figure on the New York scene, cellist Michael Nicolas enjoys a diverse career as soloist, chamber musician, recording artist, and improvisor. His eclectic tastes and willingness to try just about anything have led him to forge a musical path of uncommon breadth, from performing masterpieces of the past in the world's most prestigious concert halls, to free-form improvisation in a downtown New York experimental venue with giants of the genre, to working with contemporary composers of all styles, pushing the boundaries of musical expression and meaning. The ensembles Michael plays in illustrate his commitment to diversity. He is the cellist of the intrepid and genre-defying string quartet Brooklyn Rider, which has drawn praise from classical, world music, and rock critics alike. He is also a member of Ensemble Ditto, a chamber group based in South Korea that has garnered extraordinary success in reaching young and new classical music audiences, selling out concert halls all over Korea, Japan, and China. As a member of the acclaimed International Contemporary Ensemble (ICE), he has worked with countless composers from around the world, premiering and recording dozens of new works. Another group, Third Sound, which Michael helped found, made its debut with an historic residency at the 2015 Havana Contemporary Music Festival, in Cuba. This disc marks his Sono Luminus solo debut.
There is a thought experiment among futurologists called Roko's Basilisk, which imagines an artificially intelligent supercomputer in the not-too-distant future who develops self-awareness and decides to torture and punish all those who did not help bring about its existence. Not that I necessarily believe it, but if music indeed has charms to soothe a savage beast, then let this record be my attempt to tame the monster and show that humans and computers can co-exist peacefully, and that technology is an indispensable partner capable of deep musical expression.
In this collection of six pieces, Michael adheres not to any one genre, but simply to a general idea exploring the human/machine dichotomy. He tried approaching it from as many angles as possible, and so this record is a very diverse one featuring composers from 3 continents with works spanning over 50 years. There are duos for cello and electronics, cello solos with electronic backing tracks, pieces with multiple layered cello tracks, a solo cello piece. The music deals with intensity and hyperexpression in the Davidovsky and Oliver, fragility and expansiveness in Fulmer and Thorvaldsdottir, rhythmic drive and transformation in Reich and Gosfield. It is Michael's hope that the listener will be exposed to many new sounds and ways to organize them, and be able to connect them to more traditional ideas of musical expression.
Track List
Mario Davidovsky
1. Synchronisms No. 3 for Cello and Electronic Sounds 4:31
Steve Reich
2. Cello Counterpoint 11:36
David Fulmer
3. Speak of the Spring 8:12
Annie Gosfield
4. Four Roses 6:21
5. …and a Five-Spot 6:58
Anna Thorvaldsdottir
6. Transitions 10:46
Jaime E. Oliver La Rosa
7. flexura 12:56
Total time: 61:16
Release date: May 27, 2016
UPC: 053479220226
Quotes & Reviews
Nicolas' performances in each is brilliant and assured. He's capable of some fearsomely aggressive playing – just listen to how he digs into the opening of Flexura, with its terrifying attacks and glissandi – but also extraordinary delicacy and introspection.
Michael Nicolas' debut disc is a remarkable achievement. He has a terrific technique as well as an ear for subtle beauty, texture and colour, shaping these works so well. This is adventurous programming that works brilliantly.
This French Canadian/Taiwanese young man now residing in New York is definitely an emerging artist to watch and his debut album does much to demonstrate why he deserves serious attention.
The modern cello record to end all modern cello records.
4 Recording I Can't Live Without
…every performance he gives, from Bach to John Zorn, is fueled by a kind of childlike wonder at the magic, beauty, and ingenuity of the music at hand.