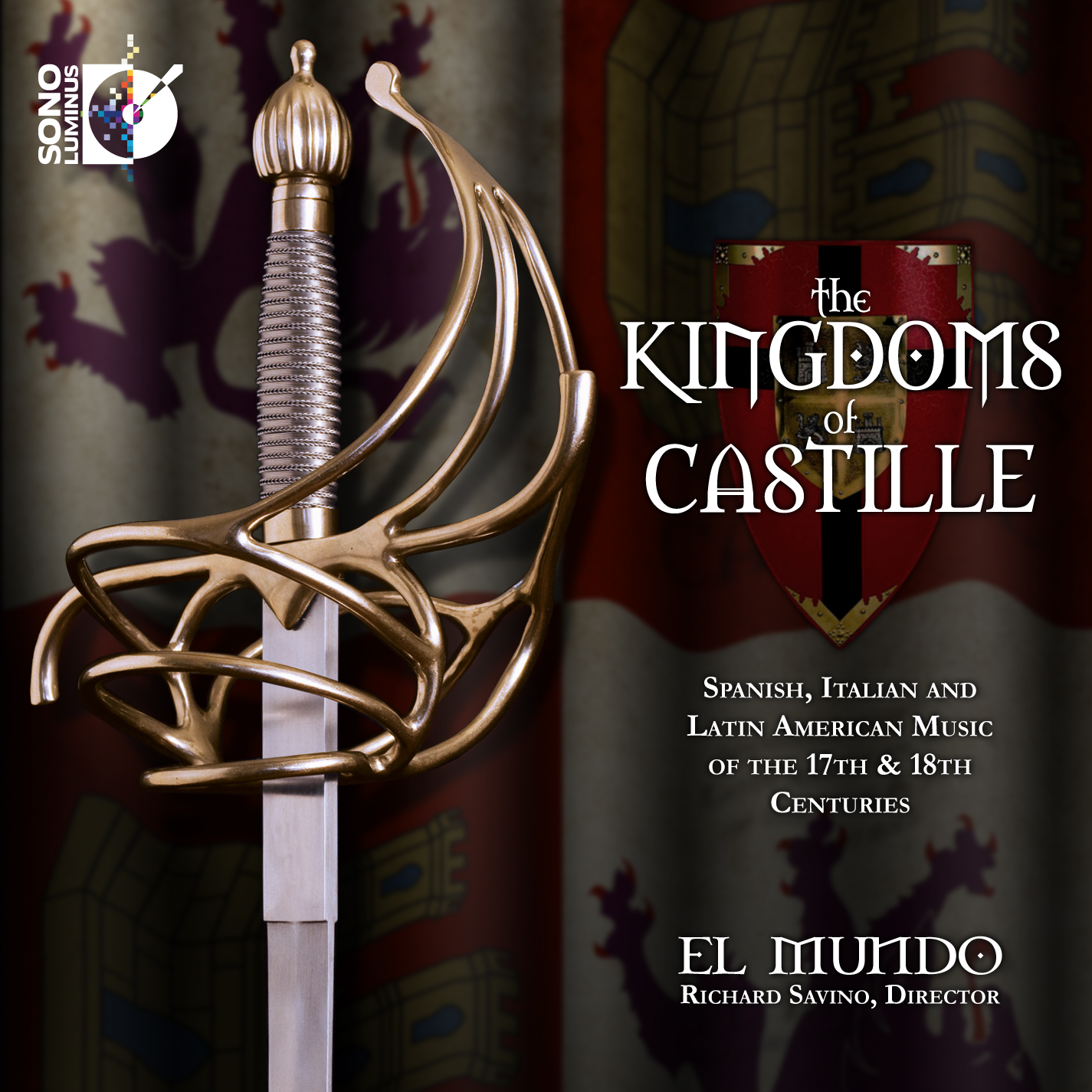 The Kingdoms of Castille
Artist: El Mundo, Richard Savino (director)
Composers: Domenico Scarlatti, Francesco Manelli, Georg Frederich Handel, José Marin, Juan Hidalgo, Domenico Mazzocchi, Andrea Falconieri, Rafael Castellanos, José de Orejón y Aparicio, Juan Arañes, Domenico Zipoli
Format: 1 CD
DSL-92131
54th Annual GRAMMY® Nomination - Best Small Ensemble
Travel across Europe and even to the New World as we follow the spread of the music of Spain in the second release from early music ensemble El Mundo, directed by world renowned guitarist Richard Savino. An adventure of sound awaits as the Castilian influence reaches throughout it's neighboring countries and across the Atlantic, bringing with it a musical zest that helped mold music as we know it.
Spanish arts, and music in particular, have evolved through the interaction and blend of the many unique cultures from within its borders, the most prominent of which are Christian, Arabic, Jewish, and Romani (Gitano/Gypsy). By the 17th century additional contributions from indigenous New World influences helped create a fertile environment for an emerging nationalist style in the arts, one that was uniquely Hispanic and still exists to this day.
From its position of political prominence 17th-century Spain spread its might, as well as rich culture heritage, to various colonial outposts throughout the globe. Musicians migrated to distant colonial centers to service Catholic missions and cathedrals, as well as the courts of the Spanish Vice Royalty. In the process the Spanish musical vernacular was disseminated to, and often absorbed by these local cultures. This recording presents a selection of works demonstrating the rich musical repertoire and close cultural connections between Spain, and the most important of these, those located in Latin America and Italy.
Richard Savino's performances and recordings have been praised by critics throughout the world. In addition to receiving a Diapason d'Or from Compact (Paris) and a 10 du Rèpertoire (Paris), the latter has also placed his Boccherini recordings in their "Great Discoveries" category which they deem as essential to any classical music collection. His over thirty-five recordings have garnered international acclaim, such as the romantic guitar music of Johann Kaspar Mertz, virtuoso sonatas by Paganini and Giuliani with violinist Monica Huggett, and many, many more. His previous recording with Sono Luminus, El Mundo's recording of Sebastian Duron's zarzuela Salir el Amor del Mundo (1696), was released in March 2010. In addition to his recordings, Mr. Savino performs regularly with some of the world's most important musicians and organizations including the Houston Grand Opera, New York Collegium and many others. Presently he is director of the ensemble El Mundo and in 1995 and 2005 he was Visiting Artistic Director of the prestigious Aston Magna Academy and Music Festival on multiple occasions.
El Mundo is a chamber group that was created by Richard Savino to perform the rich and sensual musical repertory from 16th–19th century Italy, Spain and Latin America. El Mundo has performed for early music and chamber music presenters in Houston, San Diego, Arizona, San Francisco, Los Angeles, Boston, New York, Cleveland, Columbus, Seattle, Vancouver, Victoria, Sedona, and many other locations.
This colorful and diverse release featuring soloists soprano Nell Snaidas, soprano Jennifer Ellis Kampani, and bass Paul Shipper, will delight early music lovers, Spanish music lovers, and all those with a sense of musical adventure and discovery.
Track List
1) Symphonia para empezar - Domenico Scarlatti - 2:39
2) Acceso mio core (ciaconna) - Francesco Manelli - 2:36

Cantata a voce sola con chitarra Espagnola - Georg Frederich Handel
3) Aria - 2:34
4) Recitative - 0:51
5) Aria - 2:08

6) Sdegno campion audace - Domenico Mazzocchi - 2:37
7) Coraçon que en prision - José Marín - 3:33
8) Folia (Spain) - Anonymous - 7:05
9) Esperar sentir morir - Juan Hidalgo - 3:24
10) Ciaconna - Andre Falconieri - 2:57
11) No se yo como es - José Marín - 3:53
12) Brando dicho el melo - Andre Falconieri - 1:48
13) Corriente dicha la Cuella - Andre Falconieri - 1:14
14) Corriente dicha la Mota, echa por Don Pedro de la Mota - Andre Falconieri - 1:11
15) Ausente del alma - Rafael Castellanos - 5:08
16) Oygan una Xacarilla - Rafael Castellanos - 4:49

A del dia de la fiesta (Peru) - José de Orejón y Aparicio
17) Aria - 3:03
18) Recitative - 0:37
19) Aria - 4:35

20) Parten la galeras - Juan Arañes - 5:19

San Ignacio (an excerpt) - Domenico Zipoli
21) No. 1 Symphonia/Intro: fine - 1:33
22) No. 2 Arioso: ¡Ay! Que tormento - 0:58
23) No. 3 Aria: Oh, vida cuanto duras - 5:01
24) No. 5 Arioso: ¡Oh! Que contento - 0:44
25) No. 6 Aria: Cuanto Fui, soy y sere - 3:07
26) No. 7 Arioso: ¡Oh! Que contento - 0:52
Total time: 74:28
Release date: April 2011
UPC: 053479213129