Verklarte Nacht—Chamber Symphony No. 1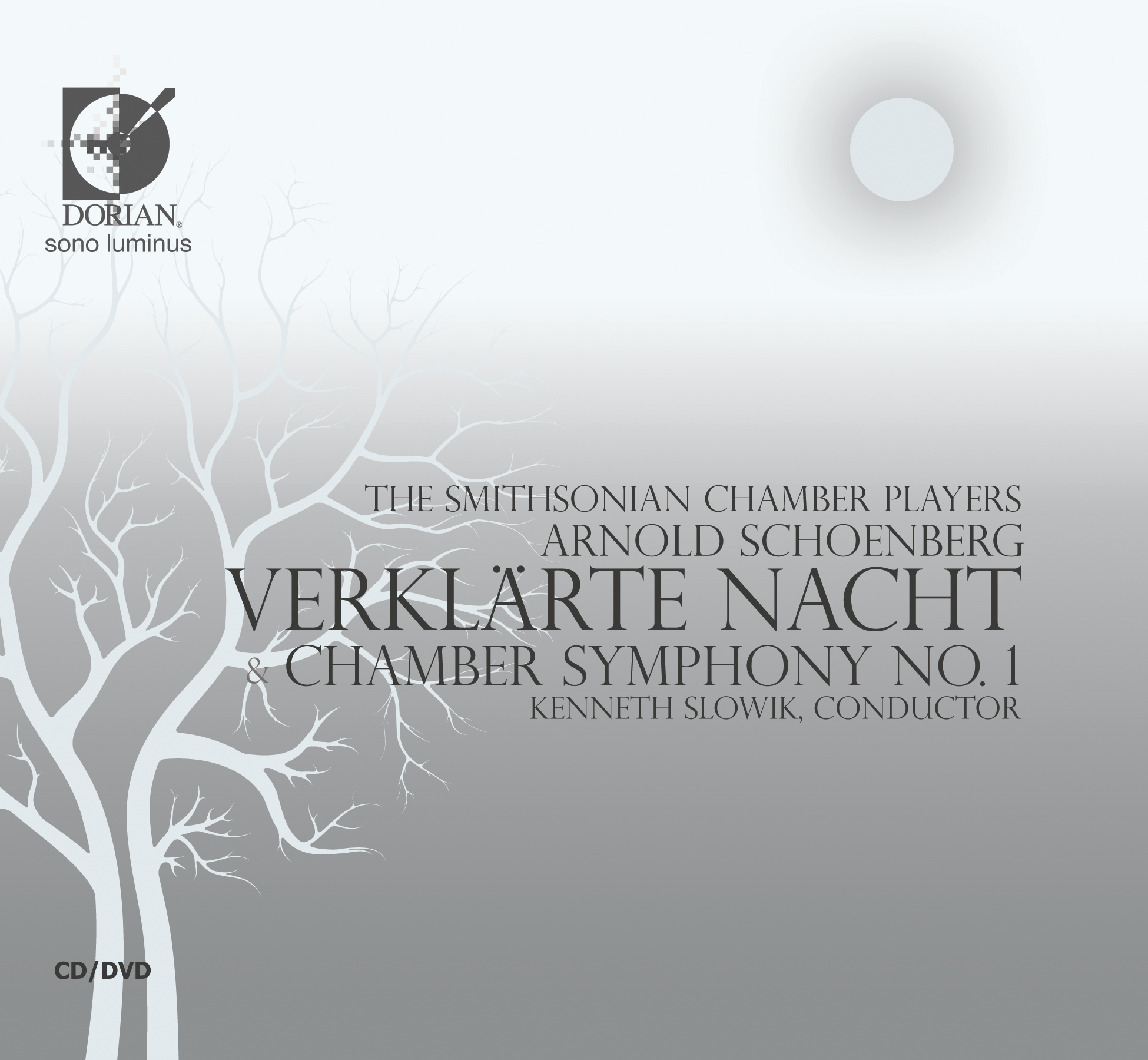 Verklarte Nacht—Chamber Symphony No. 1
Artist: Smithsonian Chamber Players
Composer: Arnold Schoenberg
Format: 1 CD + 1 DVD
DSL-90909
The Smithsonian Chamber Players explore the early music that set the stage for the development of famed 20th century composer Arnold Schoenberg in this 2 disc, CD-DVD set. Performing in two historic Washington D.C. venues (the Smithsonian Castle Building and The Library of Congress' Coolidge Auditorium), this GRAMMY nominated ensemble led by conductor Kenneth Slowik, give not only an audio, but also video performance for these two great works. This DVD takes the viewer on a journey around the world, with full performances of Verklärte Nacht (filmed at the Smithsonian Castle) and Chamber Symphony No. 1 (filmed in the Coolidge Auditorium, Library of Congress), on to Schoenberg's home in Modling outside of Vienna, a satelite museum for the Schoenberg Center. In depth discussions about these two early works of Schoenberg by scholars and musicians, as well as those who knew Schoenberg through his life bring the music to life, giving the listener new insight into these pieces. Full musical breakdowns of the pieces with examples from Schoenbergs own notes as well as examples shown by conductor Kenneth Slowik, will provide an understanding of the music that could not be achieved by listening alone. Along with the interviews, the DVD is full of rare images provided by the Schoenberg Center, as well as discussions by Jon Newsom and Richard Hoffman regarding the connections between the Library of Congress and Schoenberg, a tour of the Schoenberg Center by Center director, Christian Meyer, and a discussion about the Smithsonian and it's continued commitment to music by Smithsonian under Secretary of History Arts and Culture, Richard Kurin.
Track List
CD Tracks:
Verklärte Nacht, Op. 4
1. Sehr langsam (stanza 1=measure 1)
2. Etwas bewegter (stanza 2=measure 29)
3. Schwer betont (stanza 3=measure 201)
4. Sehr breit und langsam (stanza 4=measure 229)
5. Sehr ruhig (stanza 5=measure 370)
Chamber Symphony No. 1, Op. 9
6. Langsam--Sehr rasch (Sonata--Allegro=measure 1)
7. Sehr rasch (Scherzo=measure 160)
8. Viel langsamer, aber doch fliessend (Development=measure 280)
9. Fliessender (Slow movement=measure 378)
10. Schwungvoll (Finale=measure 435)
DVD Contains:
Full performances of:
Verklärte Nacht (filmed at the Smithsonian Castle)
Chamber Symphony No. 1 (filmed in the Coolidge Auditorium, Library of Congress)
Interviews and discussions of the works with:
Anner Bylsma, cellist
Rene Clemencic-composer & ensemble leader
Richard Hoffmann-composer, student of and assistant to Schoenberg
Reibert de Leeuw-pianist, conductor, founding director of the Schoenberg Ensemble
Christian Meyer-Director of Arnold Schoenberg Center, Vienna
And more.
Narrated by conductor Kenneth Slowik.
Total time:—
Release date: October 2009
UPC: 053479090928