The Kernis Project: Schubert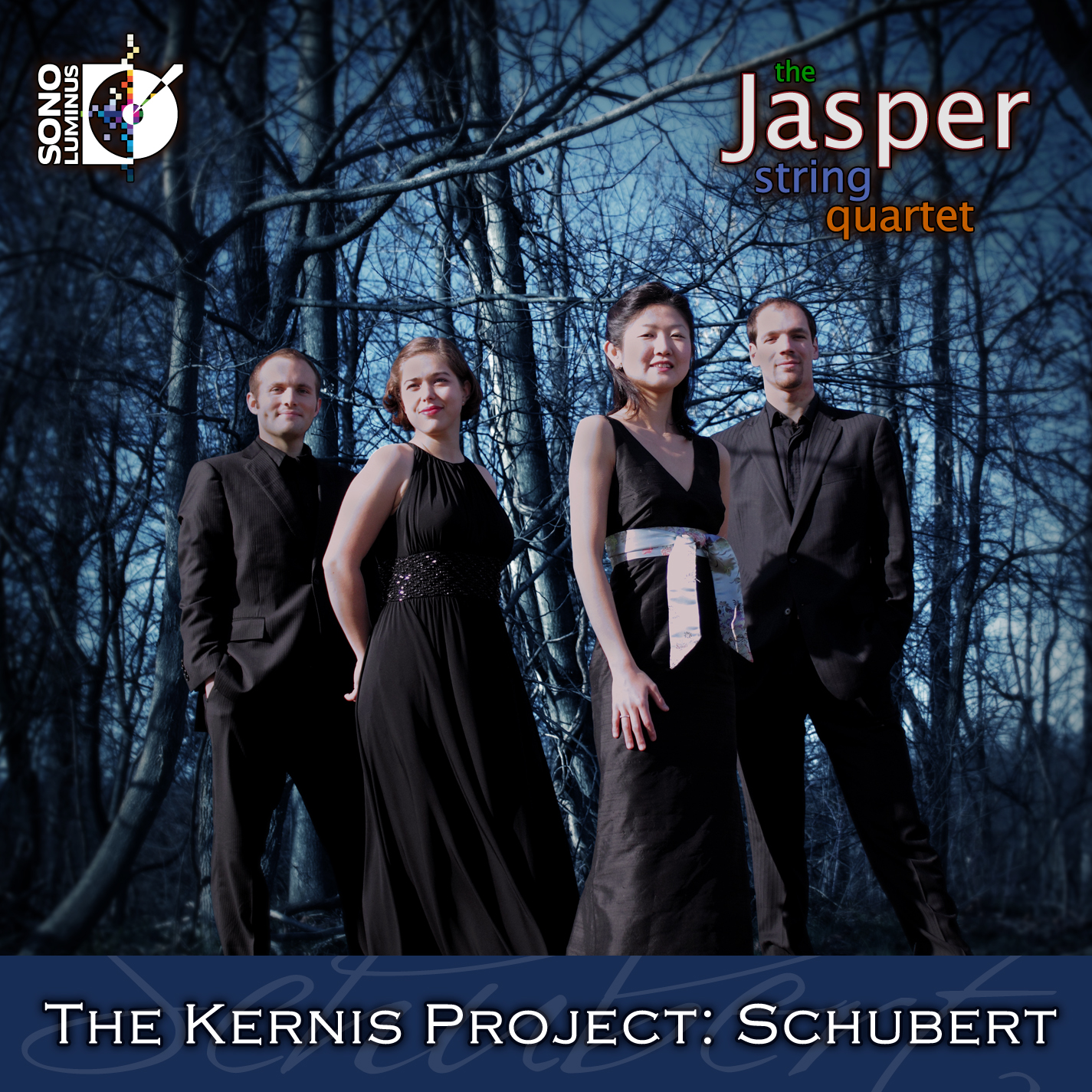 The Kernis Project: Schubert
Sono Luminus is proud to bring you the second CD from the Jasper String Quartet, The Kernis Project: Schubert, pairing the celestial works of Aaron Jay Kernis and Franz Schubert. This enchanting project is the follow-up to their previous release, The Kernis Project: Beethoven (DSL-92142).
Not only do Schubert and Kernis both ruminate in the angelic and spiritual realms for these works, their overall compositional structures are strikingly similar. Both feature monumental opening movements, transcendent slow movements, short and driving scherzos, and devilish finales. Though different in many respects, these two works garner startling parallels despite the 166 years between them.
Winner of the 2012 Cleveland Quartet Award, the Jasper String Quartet has been hailed as "sonically delightful and expressively compelling" (The Strad) and as "powerful" (The New York Times). They play "with sparkling vitality and great verve, ...polished, engaged, and in tune with one another." (Classical Voice of North Carolina) Based in New Haven, CT, the Jasper String Quartet enjoys prestigious appointments as 2010-12 Quartet-in-Residence at Oberlin Conservatory (Oberlin, OH) and Ensemble-in-Residence at Classic Chamber Concerts (Naples, FL).
One of the youngest composers ever to be awarded the Pulitzer Prize, Aaron Jay Kernis is among the most esteemed musicalgures of his generation. His music is featured prominently on orchestral, chamber, and recital programs worldwide, and he has been commissioned for many of America's foremost performing artists, including sopranos Renee Fleming, Dawn Upshaw, violinists Joshua Bell, James Ehnes, and Nadja Salerno-Sonnenberg, guitarists David Tanenbaum and Sharon Isbin, and by institutions including the New York Philharmonic, San Francisco Symphony, Minnesota Orchestra, and Los Angeles and Saint Paul Chamber Orchestras, the Walt Disney Company and Chamber Music Society of Lincoln Center, among many others.
Track List
Franz Schubert
String Quartet in D minor, D. 810 "Death and the Maiden"
1. I. Allegro 11:29
2. II. Andante con moto 13:23
3. III. Scherzo: Allegro molto 3:58
4. IV. Presto 9:33
Aaron Jay Kernis
String Quartet No. 1 "musica celestis" (1990)
5. I. Flowing 14:45
6. II. Adagio "musica celestis" 11:00
7. III. Scherzo 3:25
8. IV. Allegro sempre secco e marcato 5:41
Total time: 73:14
Release date: May 2012
UPC: 053479215222