The Kernis Project: Beethoven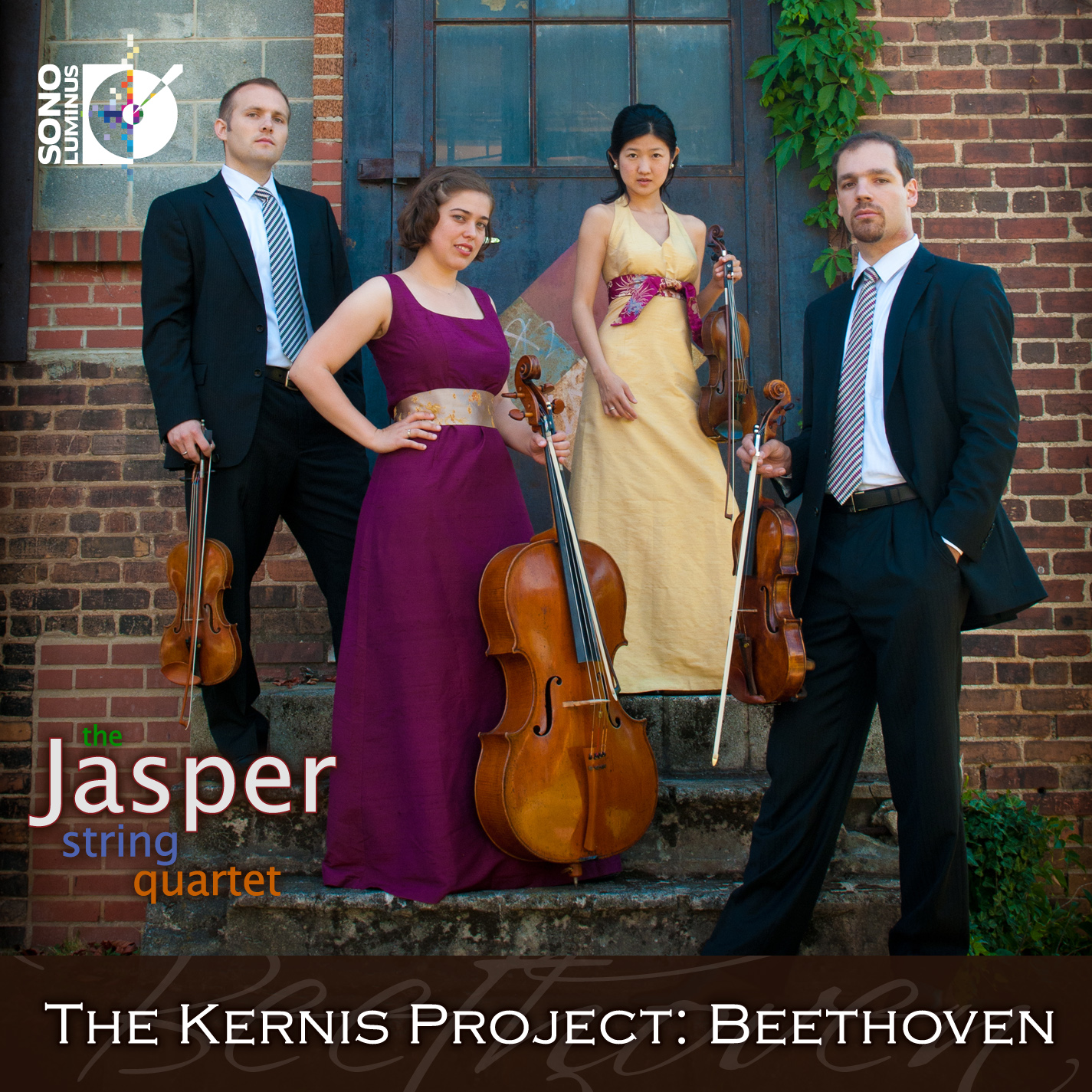 The Kernis Project: Beethoven
Sono Luminus is proud to introduce a stunning new talent to the label, the Jasper String Quartet, with their debut album The Kernis Project: Beethoven. For this debut recording, they chose two pieces closest to their collective heart. Aaron Jay Kernis took quartet writing to the next level when writing his Pulitzer Prize winning Quartet No. 2 "musica instrumentalis". The first two movements take inspiration from Baroque and Renaissance dance forms and the last movement is directly influenced by the joyous fugue of Beethoven's Op. 59 No. 3. With his last "Razumovsky" Quartet, Beethoven began his transformation into the most revered quartet composer of all time. The two pieces share a profound depth of expression and expansion of the possibilities of the quartet genre, making them a perfect pair for this project.
Beethoven completed his ninth string quartet, Op. 59 No.3, in 1806. It is the last in the set of three quartets commissioned by Count Andreas Kyrillovich Razumovsky. Count Razumovsky was an avid second violinist and it is likely that he would have played Beethoven's quartets in a group which included the famous Viennese violinist Ignaz Schuppanzigh and Joseph Linke, the cellist for whom Beethoven later wrote the two Op. 102 cello sonatas.
The three Op. 59 quartets signify a shift in Beethoven's writing style to a more progressive and individualistic approach to string quartet writing. Beethoven's earlier Op. 18 quartets are quite Classical in style and inspired by Franz Joseph Haydn's works. In the Op. 59 quartets, Beethoven developed new techniques that ultimately lead him to become the most innovative, influential, and revered composer of string quartets to this day.
Of the three quartets, Op. 59 No.3 had the best reception at its premiere, perhaps due to its exuberant nature and familiar Classical forms. All of the Op. 59 quartets conclude with rousing finales, but it is hard to top the virtuosic fugue of No. 3.
Pulitzer Prize winning composer Aaron Jay Kernis studied composition in San Francisco, Manhattan and at Yale with John Adams, Jacob Druckman, Morton Subotnik, and Charles Wuorinen. He employed rigorous compositional processes until the early 1980s when a growing sense of intuitive freedom became increasingly evident in his work. From 1990 his style took on a new transparency and emotional eloquence, as in the exquisite musica celestas. His is a truly eclectic musical language and he is as happy incorporating Latin rhythms and rap into his music as he is paying harmonic tribute to the Romantic masters and Hildegard von Bingen.
Of his String Quartet No.2, Kernis writes:
"My Second String Quartet uses elements of Renaissance and Baroque dance music and dance forms as its basis and its inspiration. I have been playing various suites of Bach's and pieces from the Fitzwilliam Virginal Book at the piano for my own pleasure for years, and I think that I had suspected for some time that their influence would eventually show up in my work.
The first movement is a kaleidoscope, an overstuffed medley of many types of dances played separately and sometimes simultaneously. The second movement alternates two different slow Sarabandes with short bursts of frenetic, furious music. The final movement is based in some fundamental ways on the last movement of Beethoven's String Quartet in C Major, Opus 59, No. 3. It is a propulsive and energetic Double Fugue, Tarantella, Rondo, Gigue, and eventually a Triple Fugue, all wrapped in an overarching sonata form."
Track List
Ludwig van Beethoven (1770-1827): String Quartet No.9 in C Major, Op.59, No.3 ("Rasoumovsky No.3")
[1] I. Introduction: Andante con moto: Allegro vivace
[2] II. Andante con moto quasi Allegretto
[3] III. Menuetto grazioso
[4] IV. Allegro molto
Aaron Jay Kernis (b.1960): String Quartet No.2 "musica instrumentalis"
[5] I. Overture
[6] II. Sarabande Double, Sarabande Simple
[7] III. Double Triple Gigue Fugue
Total time: 71:09
Release date: September 2011
UPC: 053479214225