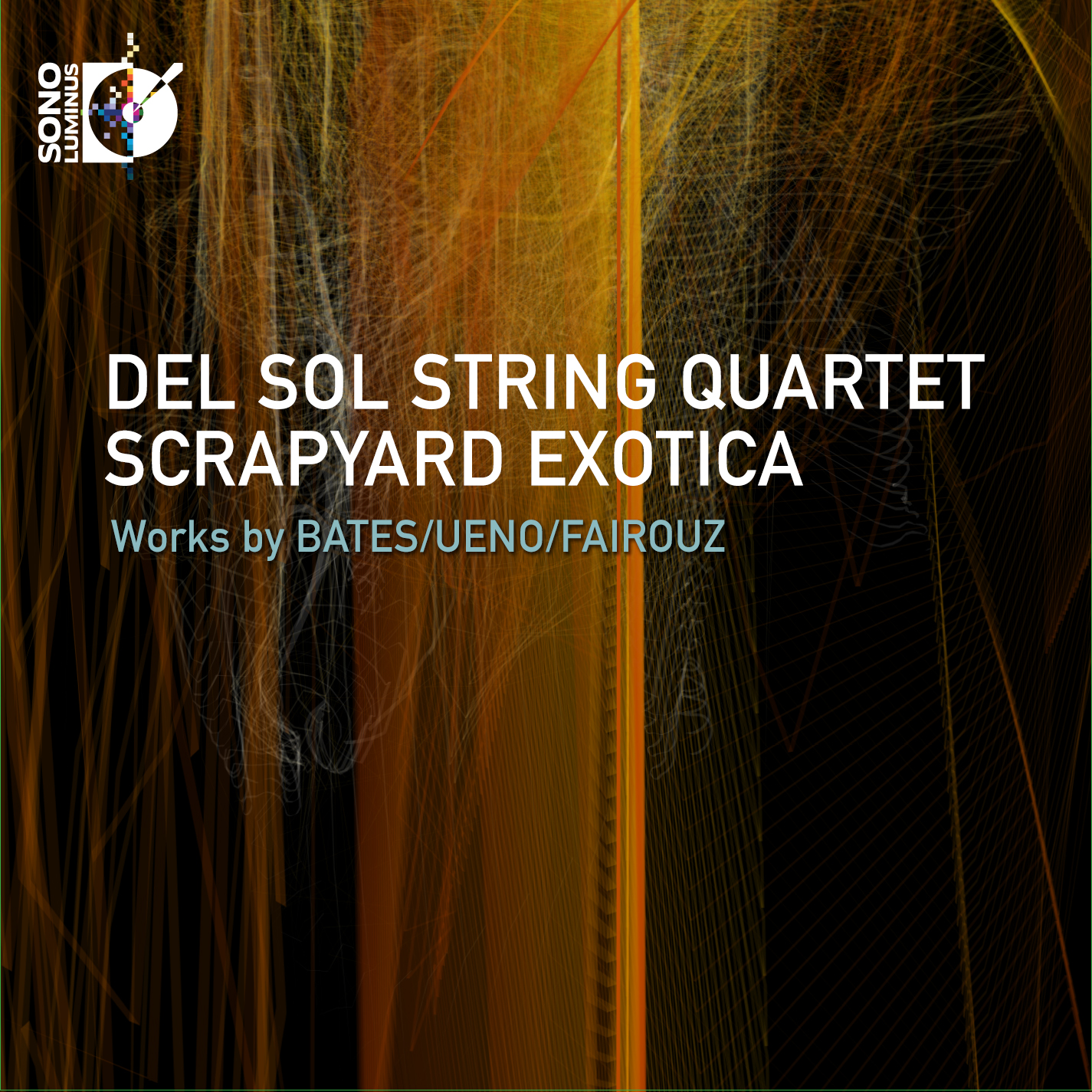 Scrapyard Exotica
Artist: Del Sol String Quartet
Composer: Mason Bates, Ken Ueno, Mohammed Fairouz
Format: 1 CD + 1 Pure Audio Blu-ray
DSL-92193
Scrapyard Exotica is Del Sol String Quartet's third full studio album from Sono Luminus. The triumvirate of composers featured on this album represent leading voices in very different flavors of music within the classical avant-garde. Diverse influences run the gamut from club beats to throat singing to Middle Eastern dance rhythms, from the melodic beauty of Schubert to swinging jazzy grooves to the world of science fiction. Yet each voice is firmly rooted in the here and now, sharing their experiences of life in the 21st century. Live audiences have been equally stunned by the power of each piece and we are thrilled to bring these recordings to those who haven't yet heard them in the concert hall. The album begins with Mason Bates' four exciting "Bagatelles for String Quartet and Electronica," which was made in collaboration with Del Sol by playing with new sounds in the studio. "Mason the alchemist took our experiments in the studio and morphed them into the electronica track that you hear in Bagatelles," says violist Charlton Lee. Second on the album is the thrilling "Peradam" by Ken Ueno, which utilizes throat singing; as Lee puts it, "Learning this piece became an incredible physical journey for the quartet, in addition to a sound world odyssey." Last is Mohammed Fairouz's beautifully meditative piece in four movements: "The Named Angels," which refers to those angels that are named and recognized in the Islamic, Christian and Jewish traditions: Michael, Israfel, Gabriel and Azrael.
Hailed by Gramophone as "masters of all musical things they survey," The San Francisco based Del Sol String Quartet, two-time winner of the top Chamber Music America/ASCAP Award for Adventurous Programming, commissions and performs outstanding new works from around the world and provides innovative educational programs. Founded at Banff Centre for the Arts in 1992, the ensemble enjoys a unique vantage point. From its West Coast perch, Del Sol's performances explore narratives and cultures that represent the depth and range of human experience around the world, reflecting the stories and sounds of the Pacific Rim as vibrantly as those heard in European concert halls or East Coast art spaces. They have released seven prior CDs since 2002, including their first Sono Luminus release ZIA (DSL-92164) and the widely acclaimed Sculthorpe: The Complete String Quartets with Didjeridu (DSL-92181) in which they collaborated with Stephen Kent. The group also collaborates with other artists in multi-media, dance, video and opera productions. Del Sol has commissioned and premiered pieces by composers such as Mason Bates, Kui Dong, Mohammed Fairouz, Gabriela Lena Frank, Tania León, Keeril Makan, Hyo-shin Na, Ronald Bruce Smith, Chinary Ung and Reza Vali, among many others.
Track List
Mason Bates
Bagatelles for String Quartet and Electronica
1. I. Rough Math 5:10
2. II. Scrapyard Exotica 4:18
3. III. On a Wire: Mating Dance 2:17
4. IV. Viscera 4:25
Ken Ueno
5. Peradam 20:52
Mohammed Fairouz
The Named Angels
6. I. Mikhail's Thunder 5:32
7. II. Azrael, Malak al-Maut 9:49
8. III. Jibreel at HIRA 4:44
9. IV. Israfel's Spell 6:57
Total time: 64:04
Release date: September 25, 2015
UPC: 053479219329
Quotes & Reviews
…These cats can play and that makes a real difference when you are charting new courses for new ears. It might be Sunday afternoon sitting down music now, but in a century or so....Who knows what reviewers will be saying then.
Sono Luminus typically packages a CD and a Blu-ray that includes digital versions of both and a superb sound quality. It is a cutting edge and important label, here including some extremely interesting pieces (including the Ueno) I think string players would really admire the technical strength and artistic vision of the Del Sol Quartet and new music fans have much to admire here as well.
You're likely to find yourself playing the disc more than a few times in succession.
And what a programme!