Ruperto Chapí: String Quartets 1 & 2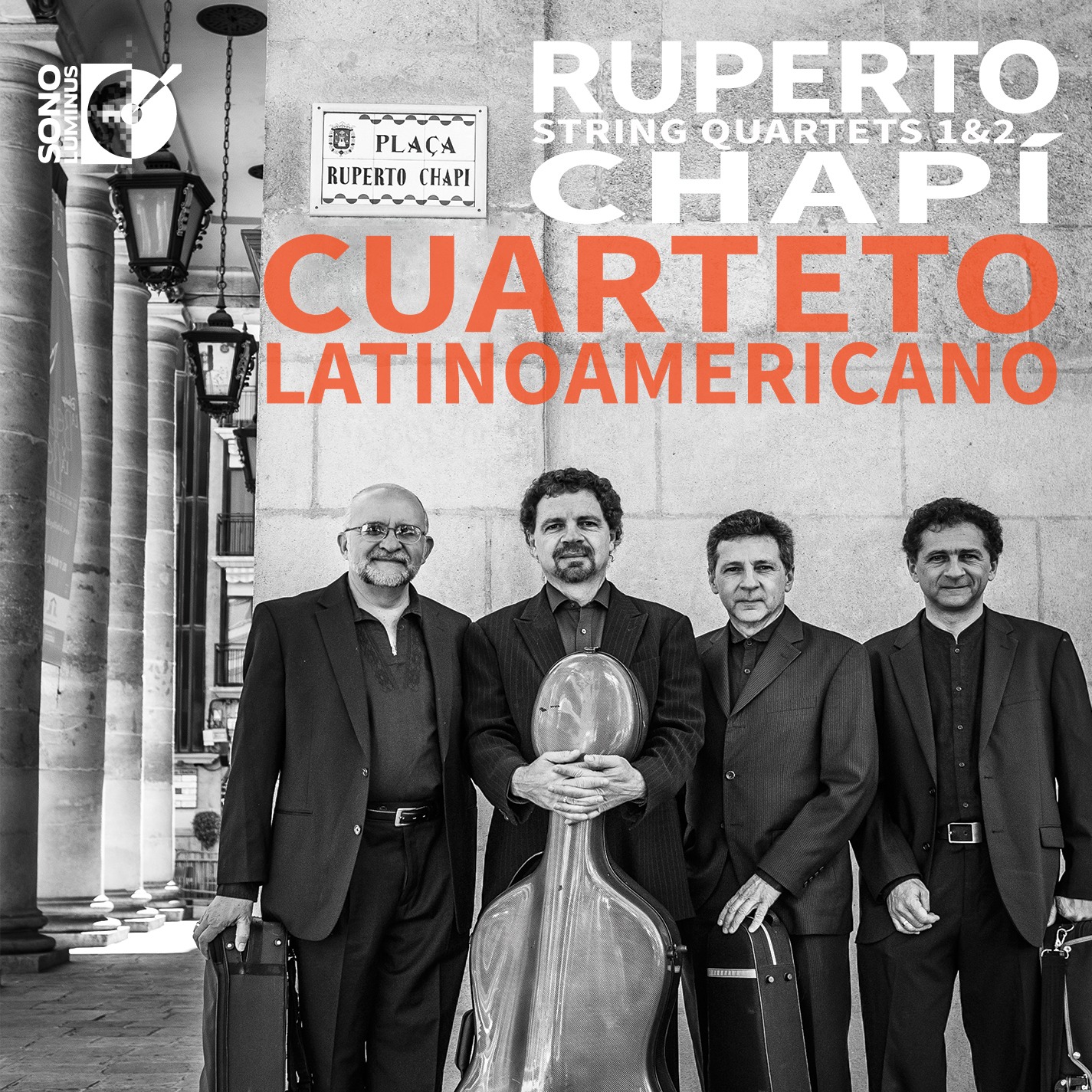 Ruperto Chapí: String Quartets 1 & 2
Artist: Cuarteto Latinoamericano
Composer: Ruperto Chapí
Format: 1 CD
DSL-92185
The history of the string quartet genre in Spain arguably begins with the luminous and crisp quartets by Luigi Boccherini (1743-1805), a composer who was Italian by birth, but a Spaniard in heart, spirit and language. Half a century later we would witness the three landmark quartets written by that prodigious and promising young comet called Juan Crisóstomo Arriaga (1806-1826). But since the tragic and untimely death of the "Spanish Mozart", the creation of string quartets in Spain seemed to sink into a lethargy which would last until the beginnings of the 20th century.
During the year 1901, the Cuarteto Francés was formed in Madrid. This string quartet encouraged local composers to write quartets, several of which were premiered in its concerts. This initiative triggered the writing of the first Spanish Post-romantic masterpieces for quartet. Among them were the fourteen quartets by Conrado del Campo (himself a member of the Cuarteto Francés), the quartets by Tomás Bretón, the string quartet ("de la guitarra") by Joaquín Turina and, of course, the four string quartets by Ruperto Chapí, by then a well established and successful composer who had never written any chamber music.
The four quartets by Chapí burst like a fresh breeze in the Spanish chamber music landscape. Here is a composer who masterfully captures the Spanish character; the poise, the sincerity and above all, the simple joy of a nation that had suffered too much. Chapí brilliantly funnels the color and purely Spanish drama of the zarzuela into the almost abstract and Central European genre of the string quartet.
Cuarteto Latinoamericano, formed in 1982, is known worldwide as the leading proponent of Latin American music for string quartet. This Latin GRAMMY® winning ensemble from Mexico consists of the three Bitrán brothers, violinists Saúl and Arón and cellist Alvaro, along with violist Javier Montiel. The Cuarteto has recorded most of the Latin American repertoire for string quartet, and the sixth volume of their Villa-Lobos 17 quartets cycle, recorded for Dorian, was nominated for a GRAMMY® award in 2002 in the field of Best Chamber Music Recording as well as for a Latin GRAMMY®. Their previous CD, "Brasileiro: Works of Francisco Mignone" (DSL-92147), won a Latin GRAMMY® for Best Classical Recording in 2012.
Track List
Ruperto Chapí
Quartet No. 1
1. Allegro moderato 8:38
2. Andante mosso 6:32
3. Allegro molto vivace 8:11
4. Moderato 13:15
Quartet No. 2
5. Allegro moderato 9:03
6. Allegretto 10:51
7. Allegro molto vivace 6:28
8. Quasi presto 8:16
Total time: 71:14
Release date: January 30, 2015
UPC: 053479218520
Quotes & Reviews
The Cuarteto Latinoamericano plays with typical incisiveness and verve… The truth is, there is very little actual slow music in these quartets. They quite literally seethe with energy, but the players differentiate and characterize each section notably well. Superb engineering from Sono Luminus captures every inflection with natural fidelity. A great release.
Having given us several award-winning discs of music by composers from countries south of the U.S. border, they now turn their attention to some of Iberian origin. These performances are equally stunning, and we can only hope they'll eventually record Chapí's last two quartets.
The Quasi presto last movement's minor-key dramatics are thrilling, as is the full-blooded, optimistic resolution. Mexico's Cuarteto Latinoamericano give us idiomatic, assured performances. You'd expect nothing less from a group containing three brothers. Joyous stuff, and very decently recorded. Can we have a second volume please?
The Cuarteto Latinoamericano gives us sparkling renditions of the quartets with a zest that leaves nothing to be desired. These are near-ideal performances…
Brilliant! This one is a stunner.
The Cuarteto Latinoamericano are in their element here; you couldn't ask for better performances.
Here is a wonderful abundance of seductive, long-limbed melodies developed amidst swirls of color and harmonic intimacies…
Laurence Vittes, A Things Strings
The performances are virtuoso affairs just as expected. This is, after all, the Cuarteto Latinoamericano.