Nine Notes that Shook the World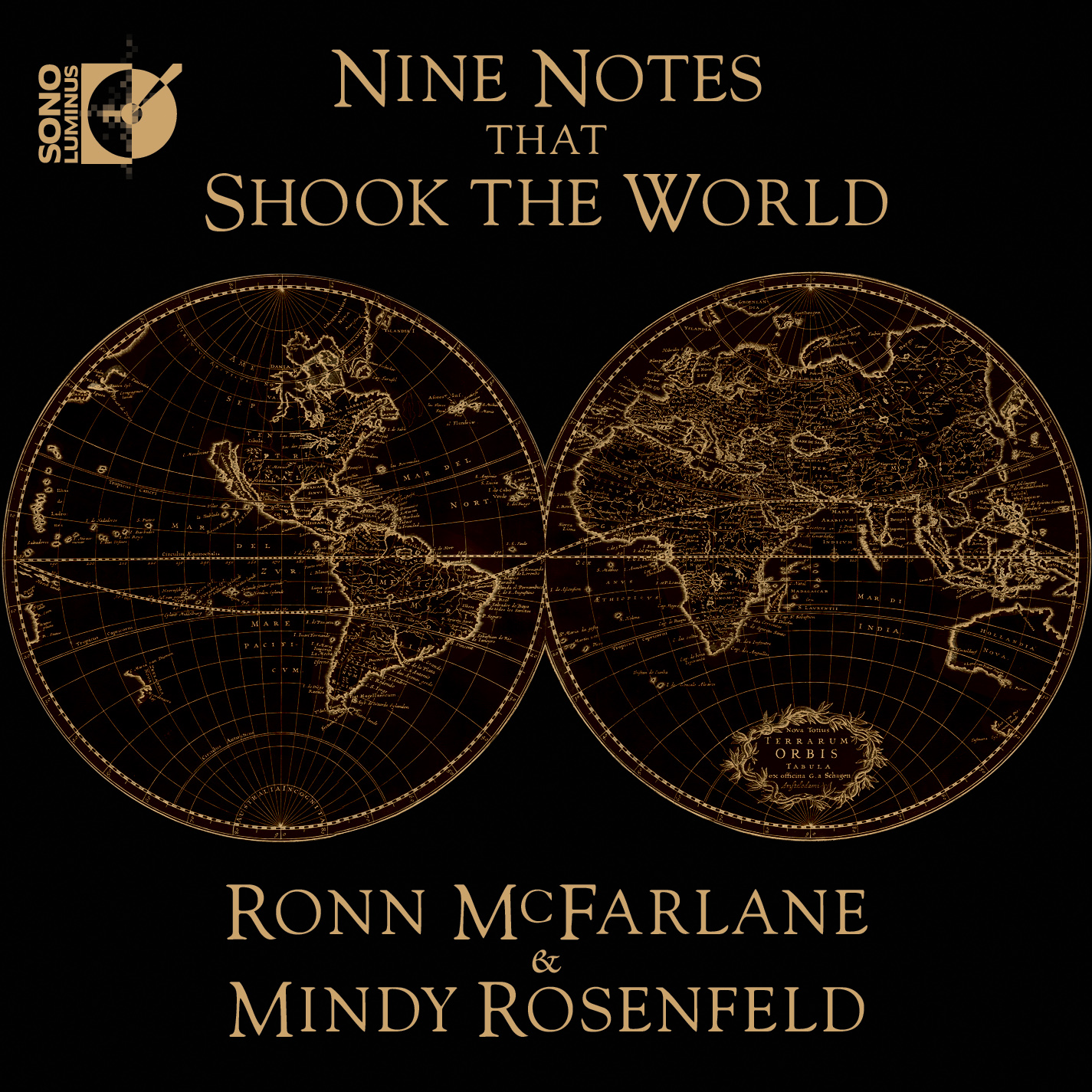 Nine Notes that Shook the World
Artists: Ronn McFarlane & Mindy Rosenfeld
Composers: John Adson, Johann Sebastian Bach, Robert Ballard, Michael Blavet, Joseph Bodin de Boismortier, Fabritio Caroso da Sermoneta, John Dowland, George Frideric Handel, Adrian Le Roy, Pietro Locatelli, Cesare Negri, James Oswald
Format: 1 CD + 1 Pure Audio Blu-ray
DSL-92169
sale
GRAMMY®-nominated lutenist Ronn McFarlane is joined by flutist Mindy Rosenfeld to create the latest release from Sono Luminus, Nine Notes that Shook the World. This release includes a surround-sound Blu-ray® disc and a standard CD.
Explained by Mindy Rosenfeld, "This recording is a gathering of some of our favorites, a musical feast. A wide cross section of styles, both 'folk and fyne,' evocative and expressive of the variety and intensity of human feelings, from sparky, joyful funto deeper meditative inner re ection, these timeless tunes from past centuries stilltouch us in ways words cannot, stirring our life energy."
GRAMMY®-nominated lutenist Ronn McFarlane strives to bring the lute—the most popular instrument of the Renaissance—into today's musical mainstream and make it accessible to a wider audience. Born in West Virginia, Ronn spent his early years in Maryland. At thirteen, upon hearing "Wipeout" by the Surfaris, he fell wildly in love with music and taught himself to play on a "cranky sixteen-dollar steel-string guitar." Ronn kept at it, playing blues and rock music on the electric guitar while studying classical guitar. Recently, Ronn has been engaged in composing new music for the lute, building on the tradition of the lutenist/composers of past centuries. His original compositions are the focus of his solo CD, Indigo Road (DSL-90701), which received a GRAMMY® Award Nomination for Best Classical Crossover Album in 2009. His CD release, One Morning (DSL-92111), features "Ayreheart," a new ensemble brought together to perform Ronn's new music.
Fluent in the music of several eras, Mindy Rosenfeld is a founding member of the highly respected Baltimore Consort, with whom she tours extensively, and since 1989, of San Francisco's Philharmonia Baroque Orchestra "the nation's premier early music ensemble" (The New York Times), where she has performed under director Nicholas McGegan and guest conductors William Christie, Jordi Savall, Gustav Leonhardt, Andrew Parrott, Andrew Manze, Bernard Labadie and Trevor Pinnock. As a colleague of Ronn McFarlane, she has performed in the trio Gut, Wind and Wire, and in the band Ayreheart. The mother of five boys, with a BM in Flute Performance from the Peabody Conservatory (Baltimore) and an MM in Modern and Baroque Flute Performance from San Francisco Conservatory, Mindy divides her time between performing, touring, teaching, dancing, her family, and their garden.
Track List
1. Grays Inn — John Adson
My Lord Willoughby's Welcome Home — John Dowland
2. Brando di Cales — Cesare Negri
Passo e mezzo — Fabritio Caroso da Sermoneta
3. My Lady Carey's Dompe — Anonymous
Lady Wynkfield's Rownde
4. Rondeau dans Zaïde — arr. by Michel Blavet
Sonata in G Major — G. F. Handel
5. Adagio
6. Allegro
7. Adagio
8. Bourrée anglaise
9. Minuetto
10. Andante (from BWV 1034) — J. S. Bach
11. The Thistle — James Oswald
12. The Laurel — James Oswald
13. Dorrington Lads — Traditional
Yeil, Yeil
A Wife of My Ain
14. Passemeze — Adrian Le Roy
Premier Suite in E minor — Joseph Bodin de Boismortier
15. Prélude Lentement
16. Allemande Modérément
17. Rondeau 'LES CHARITES' Gracieusement
18. 'L'EMERVEILLÉE' Gaiment
19. Gavotte
20. Menuet
21. Minuetto and Variations — Pietro Locatelli
22. Sitting in the Stern of a Boat — Traditional
Thugamar Fein an Samradh Linn
The Road to Lisdoonvarna
The Star Above the Garter
Carnac
23. Branles de Village — Robert Ballard
Total time: 75:45
Release date: June 2013
UPC: 053479216922
Quotes & Reviews
The program works beautifully, and both artists play with the same grace, style, and panache to which we have become accustomed.
If you heard any of the Dorian recordings of McFarlane and/or the Baltimore Consort you will know the treat that awaits you with this recording—beautiful Baroque chamber music played on copies of original instruments by early music experts.