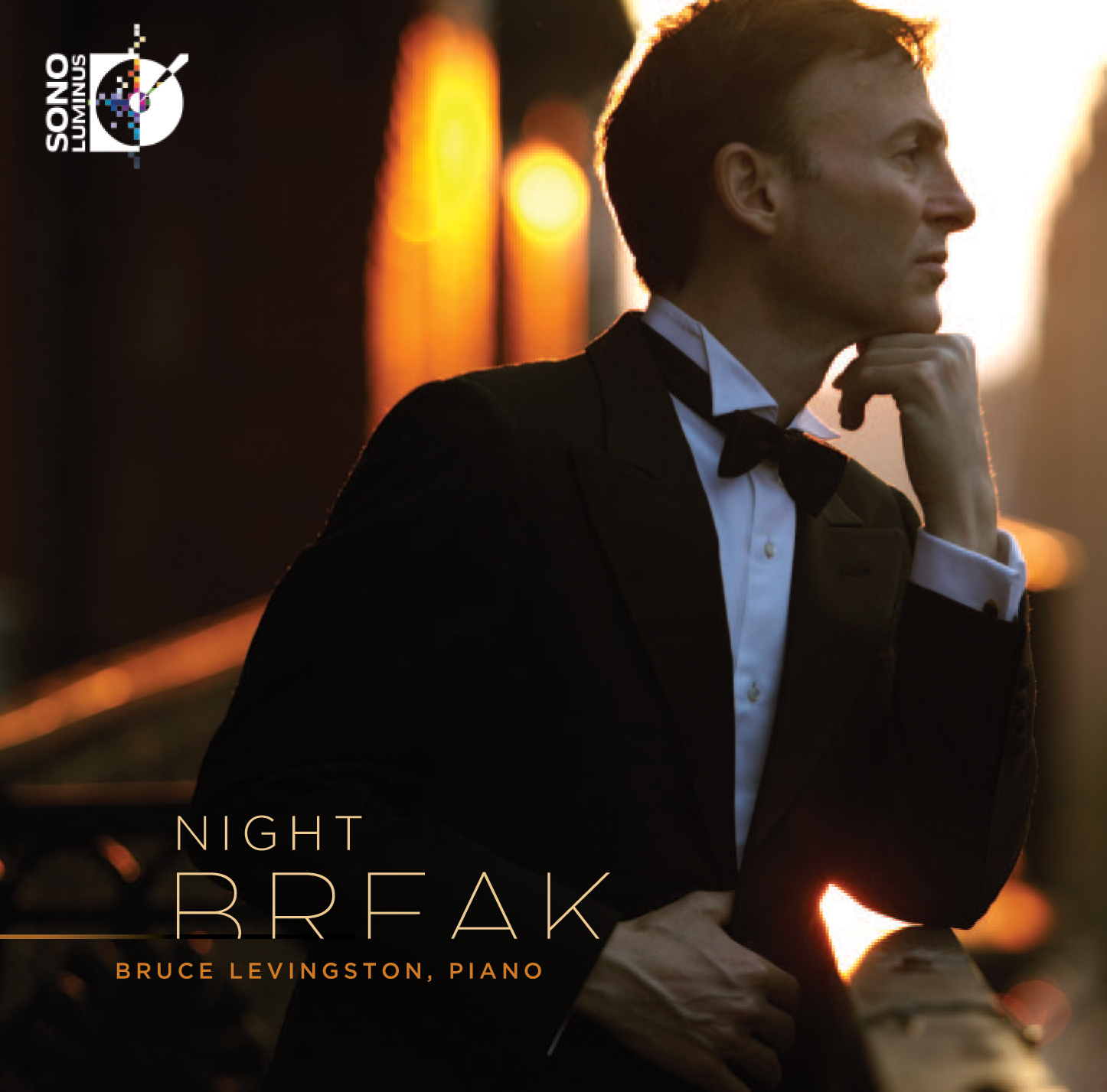 Night Break
Artist: Bruce Levingston
Composers: Franz Liszt, Johannes Brahms, Wofgang Rihm, Philip Glass
Format: 1 CD
DSL-92144
In his latest release, Night Break, acclaimed pianist Bruce Levingston has recorded an album of works that display the light and dark of the human soul. From the dramatic sound-portraits of Franz Liszt's powerful and moving "Vallée d'Obermann" and Brahms anguished "Edward" Ballade to the world premiere recording of Philip Glass's brilliant and thrilling "Dracula Suite", Levingston's virtuosic and deeply searching performance on this CD captures a panoramic range of colors and emotions.
The second release in a triptych by Mr. Levingston for Sono Luminus, Night Break also contains Mr. Levingston's signature creative programming with elegant and poetic interpretations of nocturnes and waltzes by Liszt, Brahms and Wolfgang Rihm. In addition, he has recorded Liszt's magnificent, impressionistic "Les jeux d'eaux à la Villa d'Este", a tour de force of color and chiaroscuro in sound.
Pianist Bruce Levingston is one of the country's leading figures in contemporary classical music. He regularly appears in some of the world's most prestigious venues including Carnegie Hall, Lincoln Center, and the Royal Opera House of London. Many of today's most important composers have written music for him and his performances of their works have won notable critical acclaim. The New York Times has praised his "mastery of color and nuance" and The New Yorker has called him "a force for new music."
Levingston's recordings have also garnered numerous accolades. His album Heavy Sleep was named one of the "Best Classical Recordings of the Year" by The New York Times. Gramophone has called his playing "masterly" and praised his "compelling, colourful pianism." The American Record Guide called Levingston "a pianist's pianist."
Levingston has collaborated with some of the most gifted artists of our time including composer Philip Glass, prima ballerina assoluta Alessandra Ferri, dancer Herman Cornejo, actor Ethan Hawke, composer/singer Lisa Bielawa, authors Michael Cunningham and George Plimpton, Colin Jacobsen and Eric Jacobsen and the Brooklyn Rider, and choreographers Jorma Elo and Russell Maliphant. He has also worked with numerous cultural institutions involving art, dance, film and music including American Ballet Theatre, Museum of Modern Art, Whitney Museum, Rooftop Films, SFMoMA, Rooftop Films, Alliance Française/ French Institute, Joyce Theater, the Aspen Institute and Aspen Music Festival.
Levingston is founder and artistic director of the music foundation Premiere Commission, Inc., which has commissioned and premiered over sixty new works, and is the author of Bright Fields: The Mastery of Marie Hull, the comprehensive biography and survey of the work of the noted Southern painter.
Levingston's last CD for Sono Luminus, Heart Shadow (DSL-92137), was comprised of three major piano works inspired byliterature of the nineteenth and twentieth centuries. It received high critical acclaim and was named "Album of the Week" by New York City's WQXR. Zachery Lewis of The Cleveland Pain Dealer called Levingston's account of Schumann's "Kreisleriana""vivid and richly expressive, a notable reading" and Levingston's world premiere recording of Bielawa and Wuorinen "a gripping, dynamic performance". In February 2012, the final album in this three-part series, Still Sound (Pärt, Satie, Gross, Schubert, Chopin, Bolcom) will contain intimate works featuring world premiere recordings of Pulitzer Prize-winner William Bolcom's "New York Lights" written for Bruce Levingston, and Augusta Gross' new works inspired by Satie and Pärt.
Track List
1. Vallée d'Obermann — Franz Liszt
2. Les cloches de Genève — Franz Liszt
3. Les jeux d'eaux à la Villa D'este — Franz Liszt
4. Intermezzo in E Major. Op. 116, No. 4 — Johannes Brahms
5. Ballade in D minor, Op. 10, No. 1 — Johannes Brahms
6. Waltz in D minor, Op. 39, No. 9 — Johannes Brahms
7. Brahmsliebewaltzer — Wolfgang Rihm
Dracula Suite — Philip Glass
8. Dracula
9. Carriage Without a Driver
10. In His Cell
11. Van Helsing and Dracula
12. Dracula (reprise)
Total time: 63:47
Release date: November 2011
UPC: 053479214423