Mexican Romantic Quartets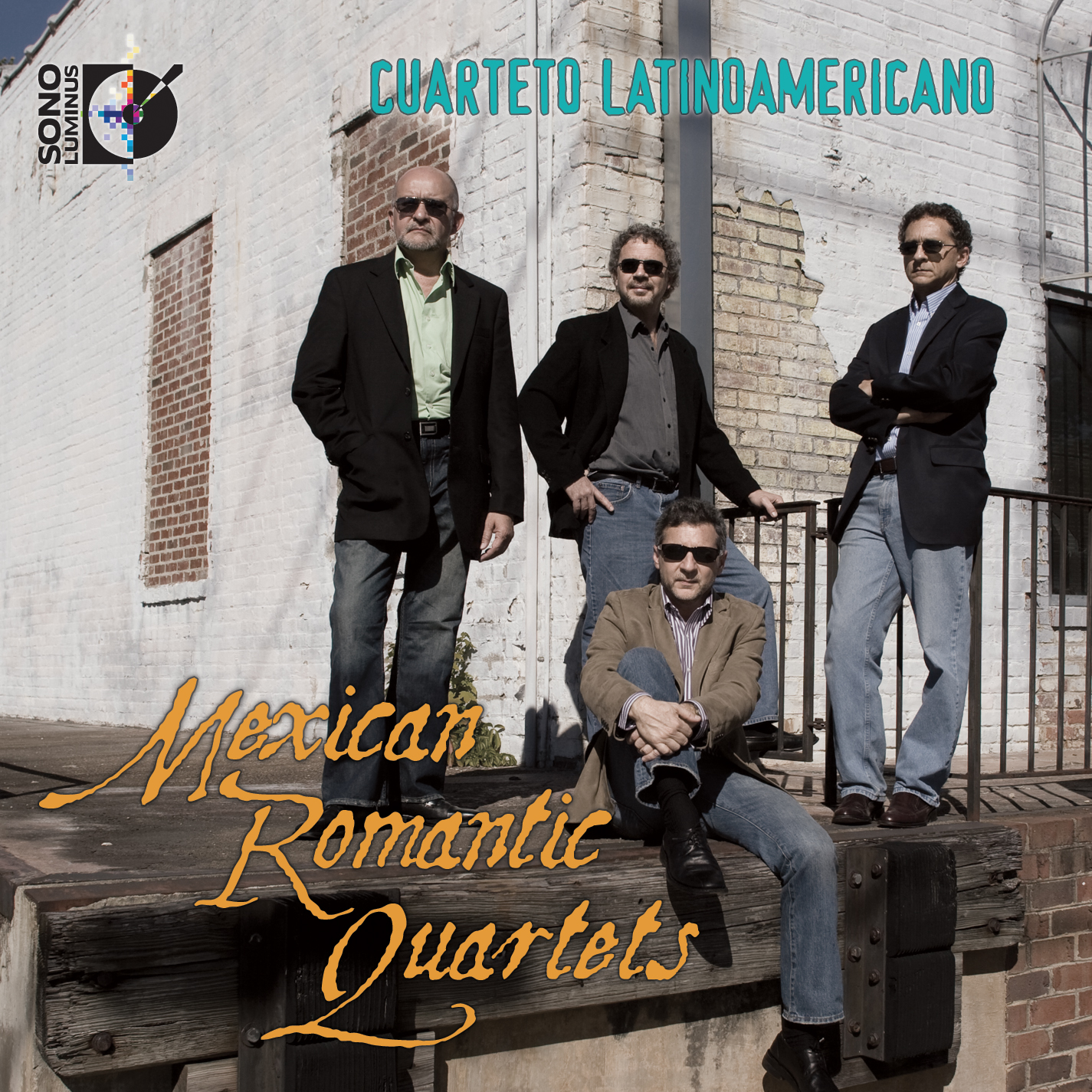 Mexican Romantic Quartets
Artist: Cuarteto Latinoamericano
Composers: Alfonso de Elías, Gustavo Campa, Domingo Lobato, Alfredo Carrasco
Format: 1 CD
DSL-92130
European romanticism gets a Latin twist with the new Cuarteto Latinoamericano release from Sono Luminus, Mexican Romantic Quartets. These elegant pieces, many of which have never been heard outside of Mexico, showcase all the lush sounds of the late romantics with a special passion that only comes from South of the border.
It is clear on listening to this recording that these string quartets fall within the
musical style termed Romanticism. To many, this term denotes one among many
styles in musical history, while to others, it indicates the character of this sort of music; its emotive yet profound language.
Nothing could be more obvious, and yet more inaccurate. The term "Romantic" applies aptly to the music of Campa, Lobato, Carrasco and De Elías, but not in the simple sense of Romanticism as a particular musical style, nor to the character of these composers' music. Few terms have been so entangled in a confusion of common meanings as has Romanticism. When we say that Romanticism as an ideology still thrives in countless aspects of our current culture and thought, we do not refer only to an explanation of why a variety of twentieth century Mexican composers such as Chávez, Ponce, Rolón and the composers on this album turned to musical ideas and techniques which put an unmistakable Romantic stamp on many of their works, but also why this music is still fresh; not as a glimpse of history or the pleasure of listening to suburb instrumental work, but because the power of Romantic discourse, whether within or distinct from contemporary musical innovation, has not abated in the least. There is something within us that, at least ideologically, is still Romantic; something evoked by these quartets with their careful composition and the colorful emotion of their longing, the Sehnsucht which so obsessed the Romantics. So concentrated and intense is the music of these quartets that it seems to be the musical embodiment of the poetic image of González Martínez, for each one of these works resembles an unexplored musical "living stone unwinding its blue ribbon," replete with profound music and feeling.
Cuarteto Latinoamericano, formed in 1982, is known worldwide as the leading proponent of Latin American music for string quartet. This award-winning ensemble from Mexico consists of the three Bitrán brothers, violinists Saúl and Arón and cellist Alvaro, along with violist Javier Montiel. The Cuarteto has recorded most of the Latin American repertoire for string quartet, and the sixth volume of their Villa-Lobos 17 quartets cycle, recorded for Dorian, was nominated for a Grammy award in 2002 in the eld of Best Chamber Music Recording as well as for a Latin GRAMMY®.
This recording marks the second new release from the Cuarteto with Sono Luminus, this being the follow up to their critically acclaimed album Encores (DSL-92108), and builds on their impressive catalog of recordings which includes the "Best of Dorian" box set Villa Lobos–The Complete String Quartets (DSL- 90904). This album of romantic masterpieces performed by the masters of the Latin American string quartet is sure to enchant classical music lovers the world over.
Track List
Cuarteto de Cuerda No. 2 (String Quartet No. 2) (Alfonso de Elías)
1. Moderato 10:35
2. Andante con moto 7:15
3. Scherzo 4:43
4. Molto moderato-Allegretto 9:16
Trois Miniatures (Gustavo Campa)
5. Menuet 3:57
6. Gavotte 1:20
7. Thème varié 7:14
Cuarteto en Sol (Quartet in G) (Domingo Lobato)
8. Lento 5:27
9. Largo 6:03
10. Rudo 5:04
Cuarteto en mi menor (String Quartet in E minor) (Alfredo Carrasco) (1875-1945)
11. Allegro 7:55
12. Andante tranquillo 3:28
13. Allegro giocoso 3:39
14. Rondo-Finale 3:32
Total time: 79:32
Release date: April 2011
UPC: 053479213020