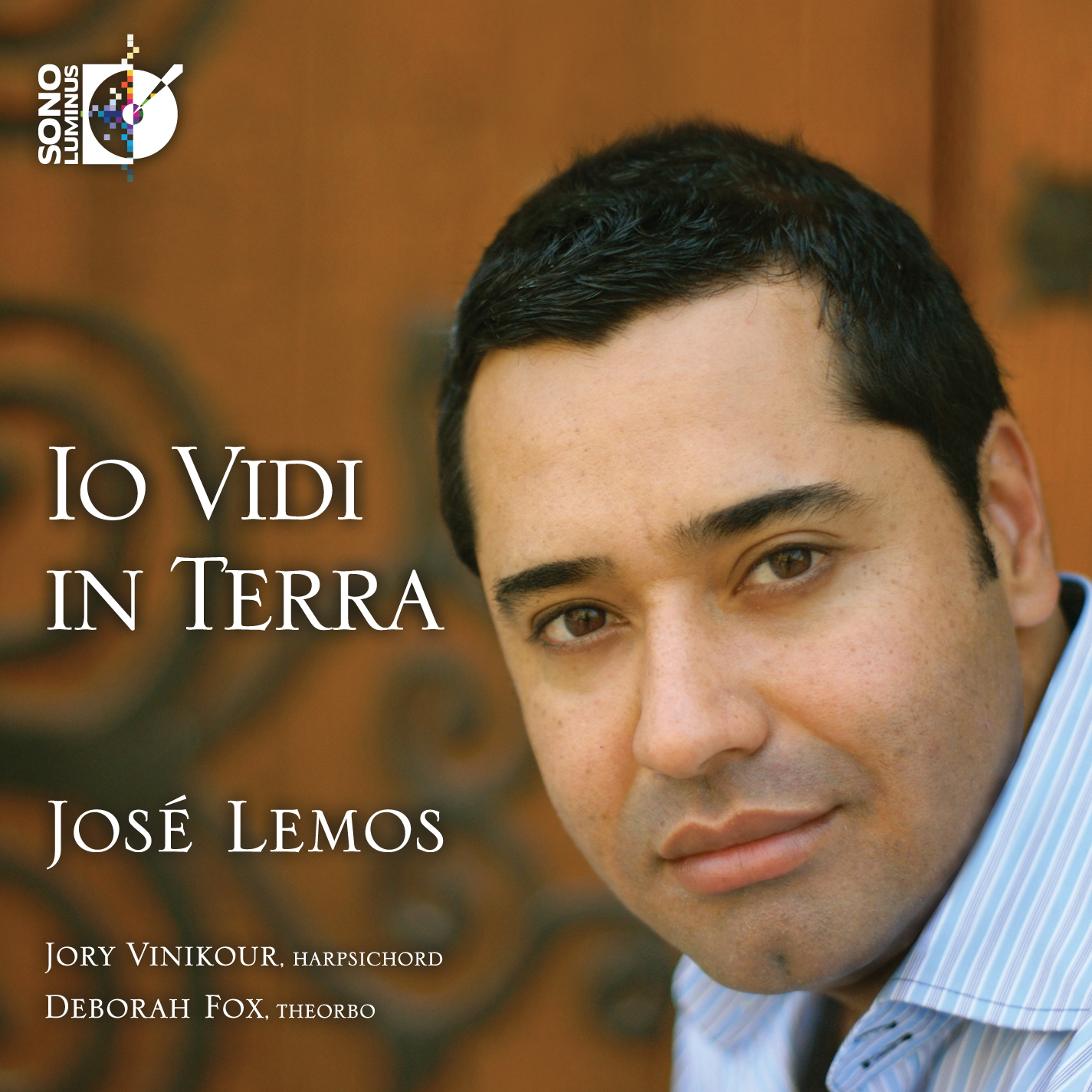 Io Vidi in Terra
Artist: José Lemos (countertenor), Jory Vinikour (harpsichord), Deborah Fox (theorbo)
Composers: Tarquinio Merula, Marco da Gagliano, Bernardo Storace, Claudio Monteverdi, Benedetto Ferrari, Alessandro Piccinini, Barbara Strozzi, Girolamo Frescobaldi
Format: 1 CD + 1 Pure Audio Blu-ray
DSL-92172
Artistically breathtaking and engagingly intimate, the vocal music of the early Italian Baroque was an exercise in close artistic collaboration. Bringing together three of the most renowned practitioners of historically-appropriate performance of Early Music and Baroque repertoires, the Sono Luminus release of Io Vidi in Terra provides a rare immersion into a mysterious world that, despite its relative obscurity in the perspectives of 21st-Century observers, shaped almost every aspect of music as it blossomed in subsequent generations.
Born in Brazil, countertenor José Lemos pursued musical studies in the United States, where he earned a Bachelor's Degree in Music from the College of Charleston (South Carolina) and a Master's Degree in Opera Performance from the New EnglandConservatory of Music in Boston. Awarded Tanglewood Music Fellowships in both 2003 and 2004, his rst operatic performances in the United States were in Robert Zuidam's Rage d'Amours and Benjamin Britten's A Midsummer Night's Dream at Tanglewood. He also won both the First Prize and the Audience Prize at the 2003 International Baroque Singing Competition in Chimay, Belgium. From those beginnings, José's operatic career has ourished with lauded appearances at Opernhaus Zürich as Nireno in Händel'sGiulio Cesare and Narcisco in the same composer's Agrippina, both under the baton of Marc Minkowski; an extensive tour with Stefano Landi's Il Sant'Alessio in a production with Les Arts Florissants and William Christie, to name just a few.
Mr. Lemos has recorded multiple albums with Dorian/Sono Luminus over the years. With Baltimore Consort, he recorded Adío España (DSL-90901), a recital of music from Spain's Age of Discovery. Additionally, he recorded Romance (DSL-90708) and Sol y Luna (DSL-92118) with Brio, featuring the exotic music of Sephardic Jews in Spain. José is thrilled to share his passion for the Italian vocal music of the 17th Century with friends and frequent collaborators Deborah Fox, theorbist and baroque guitarist, and GRAMMY®-nominated harpsichordist Jory Vinikour, as well as with listeners throughout the world.
Track List
1. Su la cetra amorosa - Tarquinio Merula (1594 or 1595-1665) — 8:18
2. Io vidi in terra - Marco da Gagliano (1582-1643) — 3:09
3. Spagnoletta - Bernardo Storace (fl. 1664) — 4:42
4. Se dolce è'l tormento - Claudio Monteverdi (1567-1643) — 2:45
5. Ardo - Benedetto Ferrari (ca. 1603-1681) — 6:44
6. Quel sguardo sdegnosetto - Claudio Monteverdi — 1:56
7. Partite - Alessandro Piccinini (1566-ca. 1638) — 2:47
8. L'amante segreto - Barbara Strozzi (1619-1677) — 6:24
9. Balletto - Bernardo Storace — 3:09
10. Cosi mi disprezzate - Girolamo Frescobaldi (1583-1643) — 3:34
11. Se l'aura spira - Girolamo Frescobaldi — 2:32
12. Canzonetta Spirituale - Tarquinio Merula — 6:51
Total time: 52:44
Release date: September 2013
UPC: 053479217226
Quotes & Reviews
Not since Alfred Deller have I heard a countertenor with this level of musicality and spirit. And the music is superb. I can't say that more emphatically--and I have nothing to gain by saying it except perhaps to convince others of what they will get with this release, to bring them the pleasure I experience myself by listening.