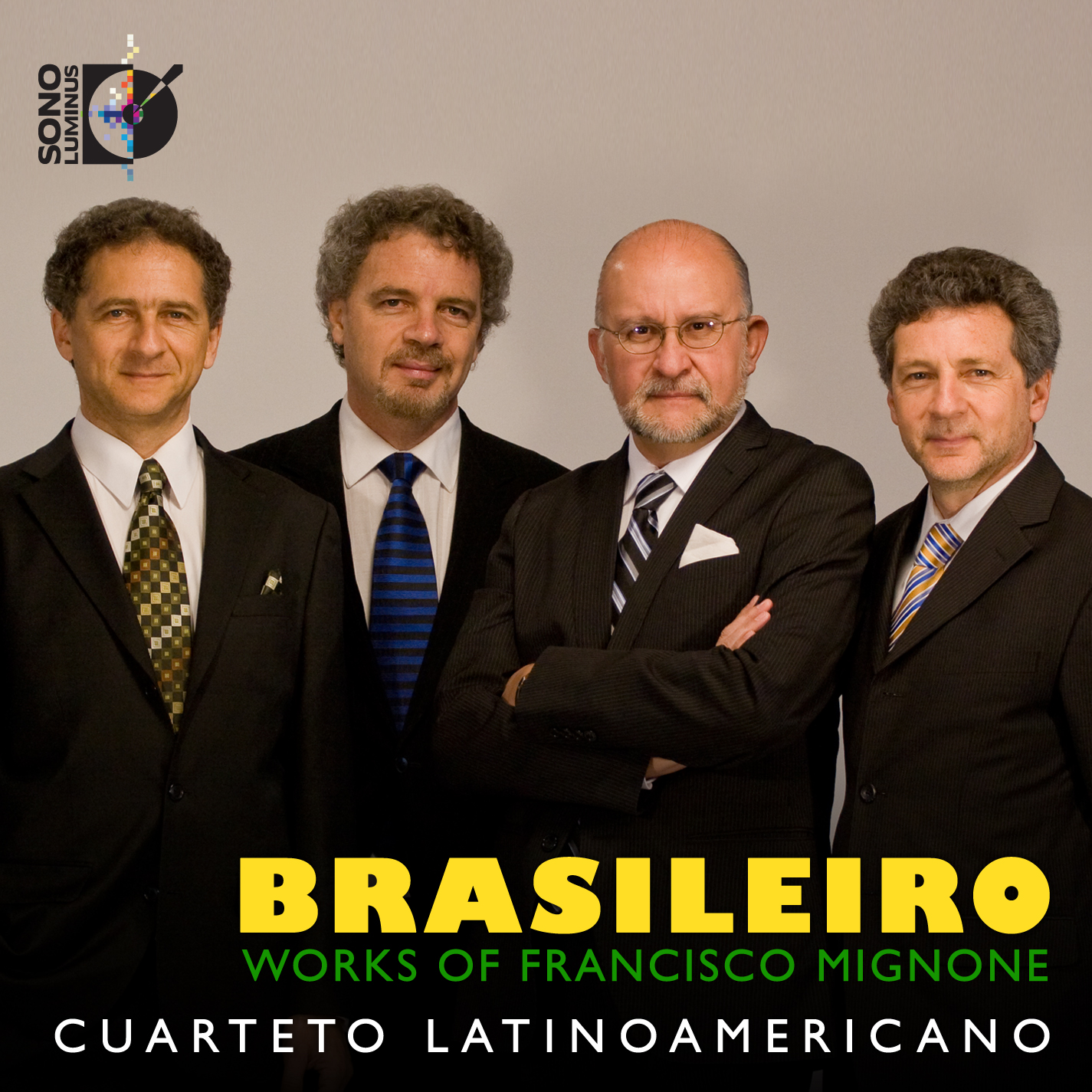 Brasileiro
Artist: Cuarteto Latinoamericano
Composer: Francisco Mignone
Format: 1 CD
DSL-92147
3th Annual Latin GRAMMY® Winner - Best Classical Album
In their latest release with Sono Luminus, the celebrated artists of Cuarteto Latinoamericano have brought together a stunning collection of selections from Brazil entitled Brasileiro: Works of Francisco Mignone. They are also joined on the Seresta No. 2 by the talented La Catrina Quartet.
Francisco Mignone (1897 - 1986) was one of the most accomplished musicians Brazil has ever had. In addition to being a masterful composer, he was also a great teacher, a successful conductor, an exceptional pianist, a great orchestrator, and in addition, a man of extensive culture. Because he settled in Rio de Janeiro in 1933, many people forget that Mignone was born in SaoPaulo, in 1897. A son of Italian immigrants, he began studying music with his father, who was an excellent flutist. In 1920 Mignone travels to Italy, where he studies with Vincenzo Ferroni (1858-1934), who had taught other Brazilian composers. It was there that he composed his first opera, O Contratador de Diamantes (The Diamond Contractor). He returned to Brazil in 1929, and in 1933 Mignone moves permanently to Rio de Janeiro and begins to occupy important chairs in the musical life of what was then the federal capital, including Music Director of the National Institute of Music's Orchestra.
Cuarteto Latinoamericano, formed in 1982, is known worldwide as the leading proponent of Latin American music for string quartet. This award-winning ensemble from Mexico consists of the three Bitrán brothers, violinists Saúl and Arón and cellist Alvaro, along with violist Javier Montiel. The Cuarteto has recorded most of the Latin American repertoire for string quartet, and the sixth volume of their Villa-Lobos 17 quartets cycle, recorded for Dorian, was nominated for a GRAMMY® award in 2002 in the eld of Best Chamber Music Recording as well as for a Latin GRAMMY®.
Cuarteto Latinoamericano has performed as soloist with many orchestras, including the Los Angeles Philharmonic under Esa-Pekka Salonen, the Seattle Symphony under Gerard Schwarz, with the National Arts Center Orchestra in Ottawa, the Orquesta Filarmónica de la Ciudad de México, the Dallas Symphony and the Símón Bolívar Orchestra of Venezuela. The Cuarteto has toured extensively around the world including performances in Europe and the Americas, Japan, China, New Zealand and Israel; they have appeared in a wide range of venues and festivals like the Concertgebouw, Milan's La Scala, the Kennedy Center, Santa Fe Chamber Music Festival, Dartmouth College, Cornell University, Dartington International Summer School and the Ojai Festival. They have collaborated with many artists including cellist Janos Starker, pianists Santiago Rodriguez, Cyprien Katsaris and Rudolph Buchbinder, tenor Ramon Vargas, and guitarists Narciso Yepes, Sharon Isbin, David Tanenbaum and Manuel Barrueco.
Hailed by Yo Yo Ma as wonderful ambassadors for music, the La Catrina Quartet is one of the most sought after ensembles on tour today. Their unique blend of Latin-American and standard repertoire has proved enormously entertaining for its diverse audiences, catering to the more traditional concertgoers while still attracting the next generation of listeners.
Track List
String Quartet No. 2
1. Allegro
2. Seresta
3. Desafio
4. Seresta No. 2, for double string quartet (with La Catrina Quartet)
String Quartet No. 1
5. Allegro deciso 6:43
6. Andante
7. Rondó - Allegretto grazioso e amabile
8. Barcarola
9. Minueto (from the Opera,"O Contratador de Diamantes")
3 Spanish Songs (Tres canciones españolas)
10. Nana
11. ¿Por qué lloras morenita?
12. Las mujeres son las moscas
Two Essays for String Quartet
13. Andante cantabile
14. Moderato
Total time: 60:27
Release date: January 2012
UPC: 053479214720