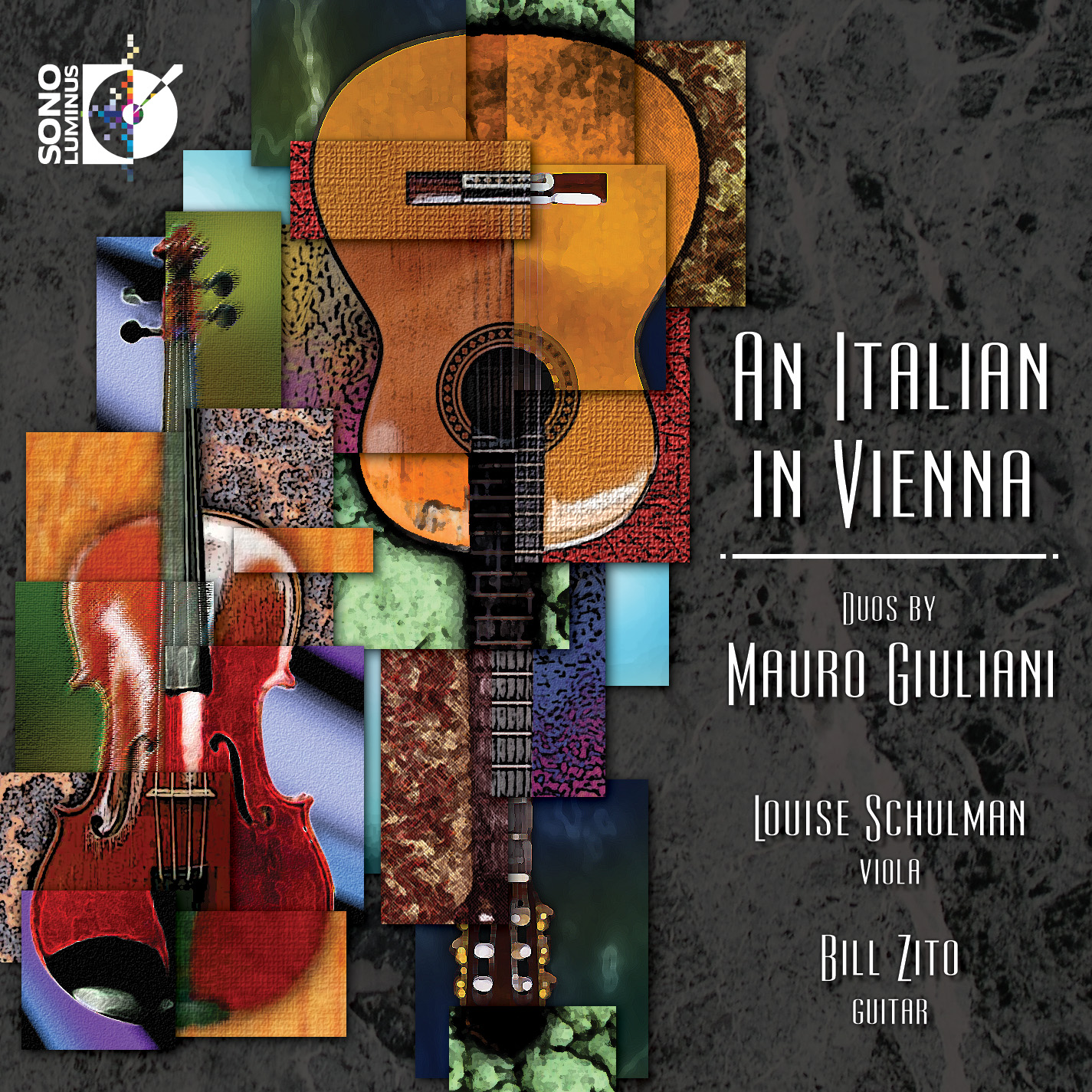 An Italian in Vienna
Artists: Louise Schulman (viola), Bill Zito (guitar)
Composer: Mauro Giuliani
Format: 1 CD
DSL-92138
In this stunning release from Sono Luminus, An Italian in Vienna: Duos by Mauro Giuliani, performed by violist Louise Schulman and guitarist Bill Zito, Giuliani's Duos become something truly special. The Duos were composed "per Flauto o Violino e Chitarra"—why not then, given a choice of instrumentation, play them on viola and guitar? The mid-range timbre of the viola and guitar give the music a uniquely vocal quality and burnished elegance. In their performance of the Duos, Louise Schulman and Bill Zito put a major focus on the operatic, bel canto tradition that was the major fabric of Mauro Giuliani's artistic heritage.
Mauro Giuliani's Duos are exquisitely beautiful, eminently accessible music. There is never a dull moment in these pieces. In them we are continually engaged by the glorious melodies, as well as the vivid character and humanistic spirit embodied in these compositions. There are slow movements and variations that are passionate and deeply moving. Many of the melodies conjure up colorful imagery and almost seem to tell a story, or paint an operatic scene. These pieces are not just a vehicle for virtuosity—Schulman and Zito strive to capture this character and expressivity in their interpretations. For the last ten years, they have been performing the Duos in recitals and on chamber concerts, always with great success. This recording is an outgrowth of that process.
Since 1970 violist Louise Schulman has been widely recognized as one of New York's most dedicated, versatile and gifted instrumentalists. She is a founding member [1974] and principal viola of the St. Lukes Chamber Ensemble and Orchestra of St. Lukes, performing in virtually all of the group's acclaimed concerts and recordings.
Bill Zito, a native New Yorker, comes from an eclectic musical background. After his teen years as a rock musician he studied early music with Rodrigo deZayas, classical guitar with Rey de la Torre and Stan Solow, and composition with Julian Orbon. His formal debut came in 1974 with appearances at Alice Tully Hall in Lincoln Center and Carnegie Recital Hall, to critical acclaim. He is currently a member of the Strathmere Ensemble and the Long Island Baroque Ensemble, and frequently appears in duo recitals with harpsichordist Gerald Ranck.
Track List
Grand Duo Concertante in A Major, Opus 85
[1] Allegro maestoso
[2] Andante molto sostenuto
[3] Scherzo
[4] Allegretto espressivo

Sérénade in G Major, Opus 127
[5] Maestoso
[6] Minuetto: Allegretto
[7] Tema (con variazioni): Andantino mosso
[8] Rondo: Allegro

Grande Sérénade in D Major, Opus 82
[9] Marcia: Maestoso
[10] Thema (con variazioni): Grazioso
[11] Menuetto
[12] Allegro brillante

Gran Duetto Concertante in A Major, Opus 52
[13] Andante sostenuto
[14] Menuetto: Allegro vivace
[15] Rondo Militare: Allegretto
Total time: 78:09
Release date: August 2011
UPC: 053479213822