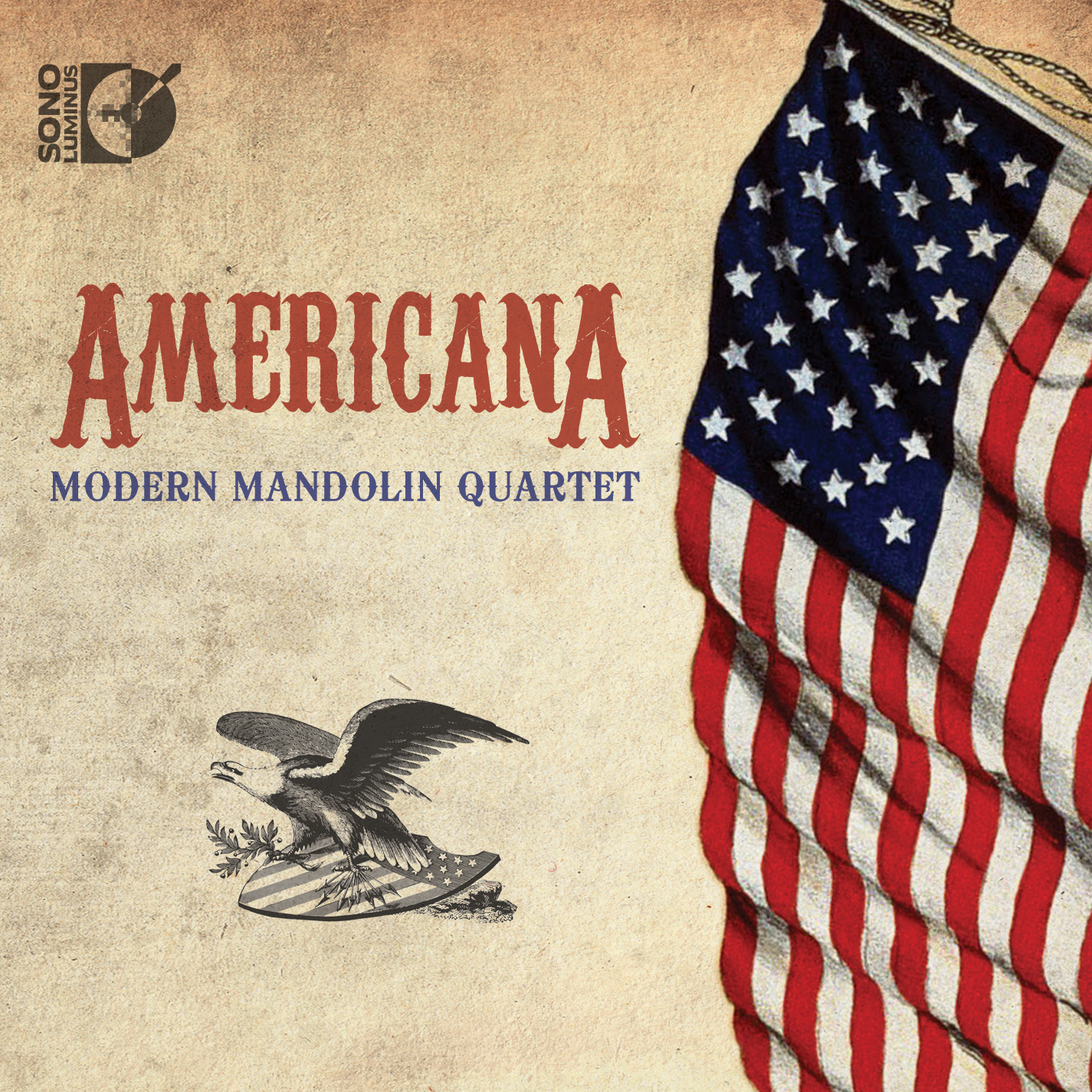 Americana
Artist: Modern Mandolin Quartet
Composers: Aaron Copland, Antonín Dvořák, Leonard Bernstein, George Gershwin, Philip Glass, William Monroe
Format: 1 CD + 1 Pure Audio Blu-ray
DSL-92157
55th Annual GRAMMY® Nomination - Best Chamber Music/Small Ensemble
55th Annual GRAMMY® Nomination - Best Engineered Classical Album
Sono Luminus presents this uniquely engaging collection of music that embodies the American spirit in Americana, the latest release by Modern Mandolin Quartet. The package will be a 2-disc set, containing a Pure Audio Blu-ray™ Surround Sound disc as well as a standard CD.
Expressing their opinion on their choices of musical selections for this album, the quartet writes, "This music attracted us because of the wonderful way it sounds on our instruments, particularly the Dvorák. Since the musical character of the pieces is based on various forms of American music, it lends itself extremely well to the mandolin. While many selections for piano and string music rely on idioms and techniques that may not transpose well to the mandolin, the pieces included on this disc were chosen for their vitality and the way they jumped right off the page."
Fanfare Magazine exclaims, "MMQ play dead-straight, spot-on, and packed with freshness and vitality of a kind that is rare in material of this type. These are not down-scaled, make-em-easy, just-for-kicks charts either—they are a Major Thing. TRIPLE MUST!"
Track List
1. "Hoe-Down", from Rodeo - Aaron Copland
String Quartet No. 12 in F, Op. 96, B. 179, ("The American") - Antonin Dvorák
2. I. Allegro ma non troppo
3. II. Lento
4. III. Molto vivace
5. IV. Finale: Vivace, ma non troppo
6. "Cool", from West Side Story - Leonard Bernstein
7. Shenandoah
Three Preludes — George Gershwin
8. Prelude I: Allegro ben ritmato e deciso
9. Prelude II: Andante con moto e poco rubato
10. Prelude III: Allegro ben ritmato e deciso
11. Bill Monroe Medley - William Monroe
Philip Glass: from String Quartet No.3 "Mishima"
12. I. 1957 – Award Montage
13. II. November 25 – Ichigaya
14. III. 1962 – Body Building
15. IV. Mishima/Closing
Bonus Track:
16. Irish Roots Medley
Total time: 72:13
Release date: August 2012
UPC: 053479215727
Quotes & Reviews
After hearing this performance of the String Quartet No. 12 I am going to have to go back and relisten to the Dvorak quartets.
Americana is a tour de force, thanks to the Modern Mandolin Quartet's skill and artistry.
I generally like Glass's music, but the twist here (the quartet being performed on mandolins instead of the traditional bowed string instruments) gives this recording a special quality. Glass's music performed on string quartet instruments is a sound with which many people are very familiar, but the mandolin quartet does not suffer from that handicap. Instead of the stuffy, all-black-clad (but still quite enjoyable) "indoor" feel of Glass's music for bowed strings, the timbre of the mandolins imbues a more adventurous, airy, denim-wearing, "outdoor" sound to this music.